Breeo's X Series 24 Smokeless Fire Pit is a premium product made for home and commercial use. This fire pit is not ideal for camping given its premium finish and large size.
The below information will help you purchase Breeo's X Series 24 Smokeless Fire Pit.
Why choose X Series 24 Smokeless Fire Pit?
Breeo is one of the most trusted fire pit manufacturers in the US. Designed and made in Pennsylvania, the X Series 24 smokeless fire pits are class-leading in terms of design and aesthetics.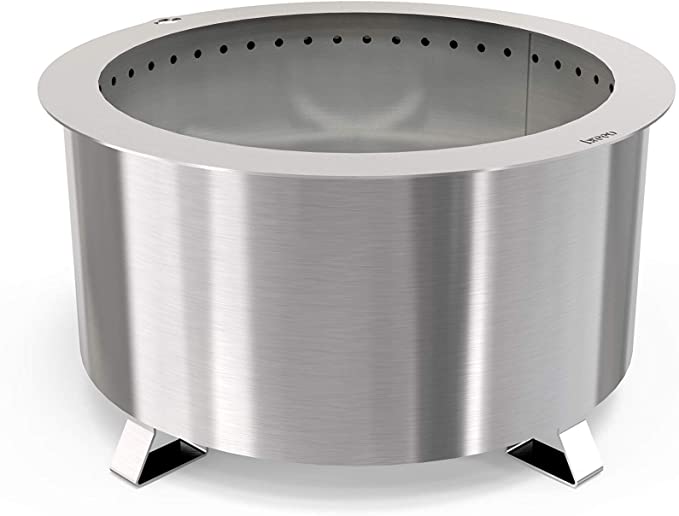 The elegant design of these fire pits often sees them around hotels, lodges, and homes. They're not the most cost-efficient solution to carry in camp. They aren't even the lightest fire pits which means they aren't truly portable.
However, the customization options of the fire pit make it an excellent choice for a wide range of uses which include elevating the look of the backyard. The large 27.5 inch design of the fire pit also recommends a fire pit for a large relaxing fire with almost no smoke.
X Series 24 Smokeless Fire Pit
THE PERFECT BACKYARD FIRE PIT - The Double Flame 24" was built to be the ultimate backyard fire pit. Larger than the 19" Double Flame, to ensure there's always plenty of flame to gather around.
SMOKELESS DESIGN - Featuring a super high efficiency reburn system that feeds the fire at the bottom and uses double walls to draw in extra air and burn off smoke at the top, while also massively reducing the ash you're left with. No more smoke chasing everyone around the fire.
BUILT TO LAST - The Double Flame is built with heavy duty 304 stainless steel that will last for years. Its thick steel and complete lack of moving parts means you'll have incredible smokeless fires for years.
Premium design
Breeo is known as a brand that creates beautiful products. The X Series 24 is no exception. This fire pit is among the most impressive in terms of minimalism, a concept in which many steel fire pits haven't managed to launch products in.
Breoo strives for a simple design. A perfectly flat sear plate, flat walls, and simple square legs make this smokeless fire pit almost of an industrial influence.
This also means its design isn't the most appropriate for camping where efficiency is more important.
Integrated sear plate
The integrated sear plate of the X Series 24 makes it one of the ideal options for quick grilling. This separates Breeo's fire pit from almost all of its alternatives that need some type of grilling accessory for cooking.
A quick burger with grilled vegetables can be prepared on the wide sear plate of the X Series 24. 
We have also covered what to look for in smokeless fire pits in a separate article.
A balanced option (compared to X19 and X30 series)
The X Series from Breem comes in 22.1 inches, 27.5 inches (the X24), and 34.5 inches. The mid-size of the X24 recommend it for groups and families. This fire pit is large enough for multiple people to sit around for and stay warm. 
A choice between corten steel and stainless steel
Corten steel and stainless steel are both top materials for fire pits. However, the choice between corten and stainless steel is mainly in the apanage of Breeo.
Customers specifically looking for a different look will favor Breeo as they have the option of corten steel. This durable material is known for developing a natural patina in time and it maintains a type of industrial steel look that other smokeless fire pits don't offer.
Breeo offers the corten steel X Series 24 as standard material. A more different look that doesn't fade away as easily is stainless steel. However, the X Series 24 in a stainless steel version costs more.
Top accessories
Breeo is also one of the top brands in terms of quality accessories for fire pits. The US-based manufacturer offers a wide range of good accessories which further improve the functionality of the fire pit towards grilling. However, the X Series 24 remains a fire pit even with all Breeo accessories. Among the worthy accessories, users recommend the following.
Outpost grill – good for grilling basic foods
Lid – recommended keeping water out of the fire pit
Kettle hook – ideal for hot drinks
Spark screen – safety-orientated accessory
Ash shovel – a 90-degree shovel with a long handle to easily remove ash
X Series 24 Smokeless Fire Pit Top Specifications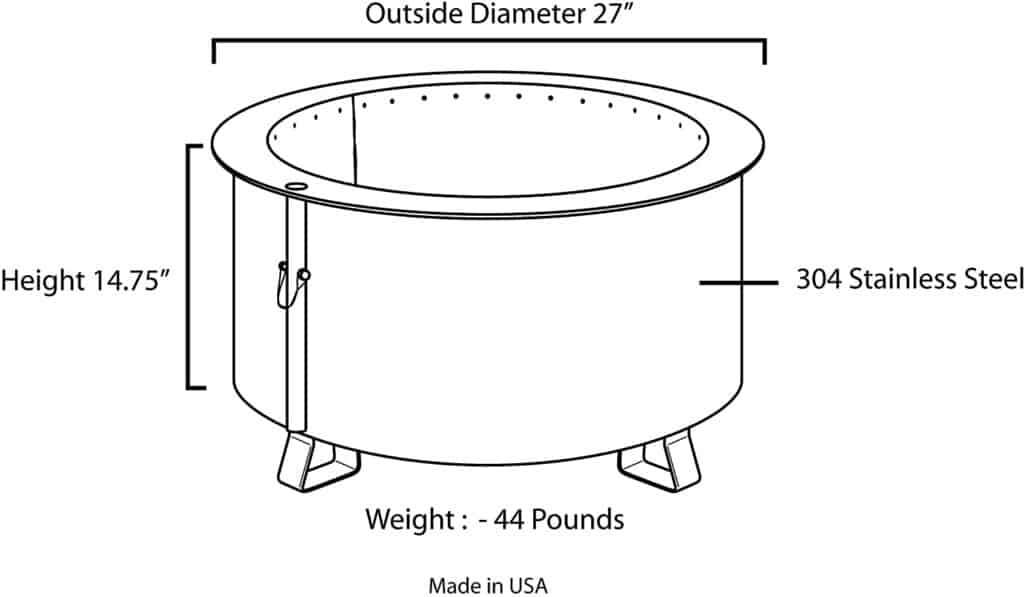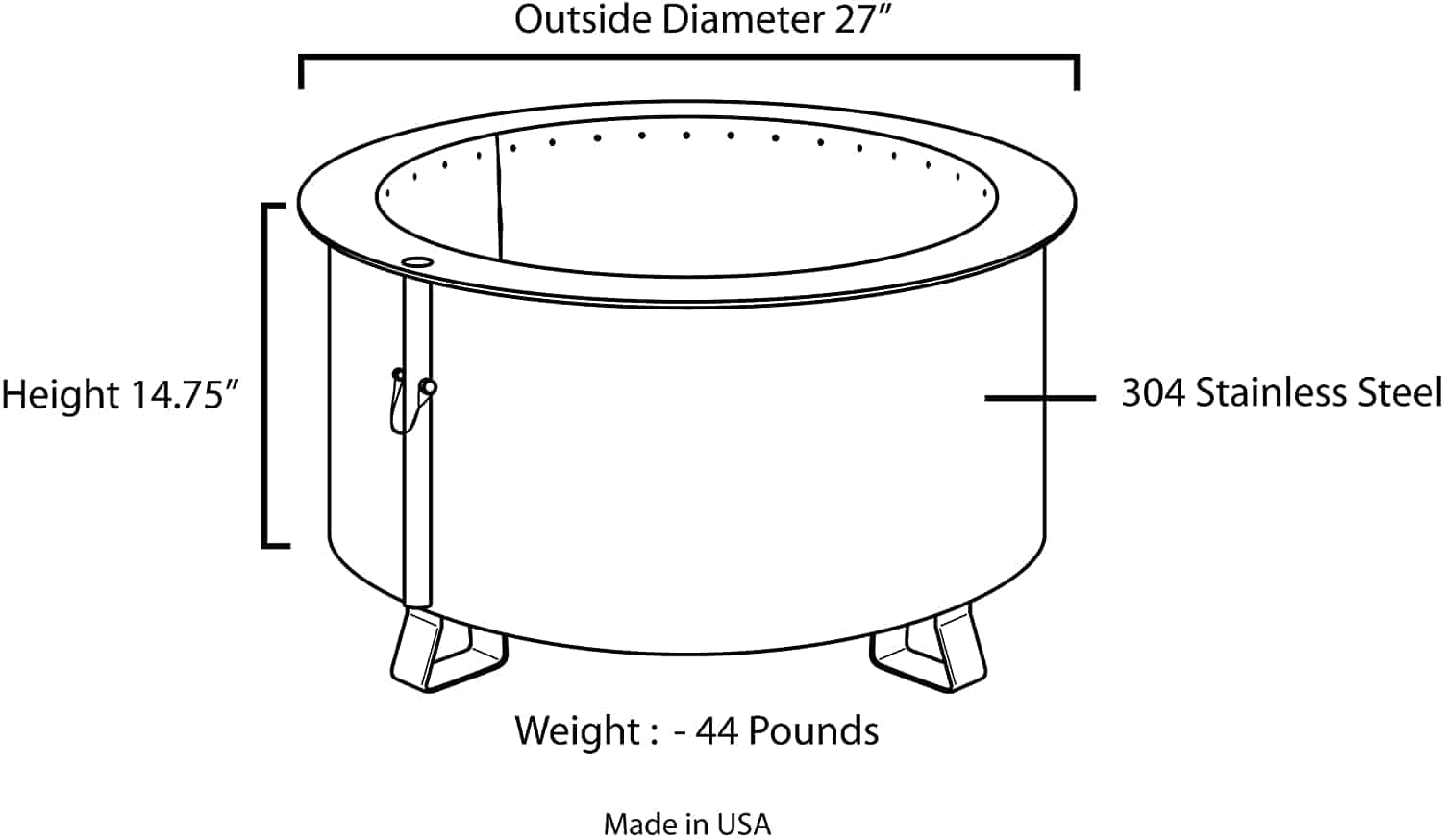 27.5 in outside diameter
Made from pure steel
Designed for smokeless fire
Our favorite features
High-quality finish
Made in the US
Backed by a lifetime warranty
Our least favorite features
Not suitable for camp use
Spark screen sold separately
A stainless steel version is more expensive
Summary
The X Series 24 is one of the most reliable smokeless steel fire pits in the US. It's backed by Breeo's impressive lifetime warranty, a policy that speaks for itself when it comes to expected longevity. The capacity to choose between corten and stainless steel also makes this fire pit a bit more customizable than others.
Frequently Asked Questions
How heavy is the smokeless fire pit?
Weighing 62lbs, the X Series 24 is one of the heaviest smokeless fire pits in its class. The fire pit is largely made for stationery use where it's not moved frequently even around the backyard.
This type of heavy-duty fire pit is recommended on the patio, concrete slabs, or on even grass in the backyard. The bottom is slightly elevated which means this fire pit is suitable for just about any floor surface.
How wide is the smokeless fire?
Breeo implements a double-wall design in the X Series for nearly smokeless fire. How it is different from other smokeless fire pits designs? The answer lies in its wider diameter. At 27.5 inches, it allows making a large fire, ideal for small groups or families that sit around the fire.
Is Breeo X Series 24 big enough?
X24 or Breeo X Series 24 has a diameter of just over 27 inches. This makes it the balanced choice in the series as there are both larger and smaller options to choose from. You can go with the X24 if you aren't sure about which size Breeo smokeless fire pit is best for your family.
Do smokeless fire pits from Breeo give off heat?
Up to 1000 degrees, Fahrenheit is generated by a smokeless fire pit. A secondary burn Breeo is known for is what causes the extra heat as there is more air the fire pit intakes from the bottom which is heated and moves up towards the main flame to create a stronger heat output.
Is Breeo X Series 24 better than the X19?
X24 is better than X19 for groups and families. The smaller X19 is recommended for singles or couples who want to relax at night without having their clothes smell of smoke. The larger X24 is ideal for a larger fire, more heat, and a larger sear plate which allows for preparing more food quicker.
Andrea is passionate about going on adventures and enjoys spending quality time with her loved ones, whether it's hiking through the mountains or camping by the lake.