On a hot day, you're never going to be left in the lurch with warm drinks and soggy, limp food. That is if you kit yourself out with the right accessories. With a Yeti Tundra 45 review, you quickly learn that the durable, portable cooler box is about uncomplicated usefulness.
Don't be misled by the simple design of the stylish cool box as it boasts a robust build, yet it is small enough not to be cumbersome.
Buying Guide – What to look for in the Yeti 45
The cool aspect about a Yeti Tundra 45 review is that you find out exactly what you'll be getting when you invest in the cooler box. The hard cooler box comes from a company that has been around for a while. The Yeti company was founded in 2006 by brothers with a penchant for the outdoors.
1. Certification of bear resistance
One thing is sure, in terms of food and drinks, the hard cooler box gets you ready for all your wild adventures. It comes with a certification of bear resistance from the IGBC.
This tells you that the Tundra 45 has met the minimum standards to stand up to a grizzly bear trying to get access to your cooler box's contents.
The Tundra 45's storage capacity appears larger than it actually is. This is due to the 3-inch-thick insulated walls. This does however ensure that your food and drinks remain colder for longer.
2. Insulation
With a Yeti Tundra 45 review, you'll be expecting to know about the efficiency of the Tundra 45 in terms of insulation. For starters, the lid closes securely. This is thanks to the heavy-duty rubber T- latches. It doesn't stop the lid from being able to open swiftly and with ease.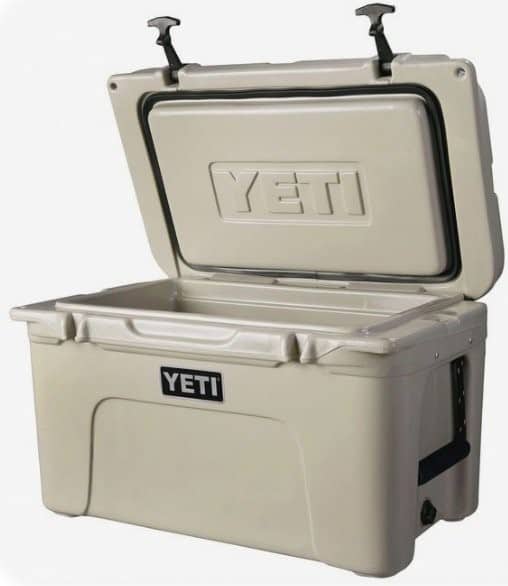 The rubber seal around the lid ensures that cold air stays right where it belongs. Customers who have already made use of the cooling container have placed it in a hot testing room and found that it still maintains its internal temperature of 50°F for at least 4 days. They rightfully describe this performance as impressive.
3. Durability
Of course, people look for durability. It's what makes a worthwhile investment. What durability can one expect with this rotomolded cooler? The Yeti Tundra 45 is built with rotomolded construction. This is a process where plastic is injected into a hollow mold, rotating it to create parts.
The cooler bottom, as well as the lid, are made of polyethylene. As suggested, the Yeti cooler box is so durable and robust that it is deemed bear-proof. To further prove the durability point, the Tundra 45 has even been thrown out of helicopters and survived.
Yeti 45 cooler box specs
Cool color selection – desert tan, charcoal, coral, two shades of blue, high country, white, river green, and seafoam.
Exterior dimensions: 25.5" in length, 16" in width, and 15.5 inches high.
Interior dimensions: 19.5" long, 10.5" wide, and 10.5" high.
It holds 35 pounds of ice if you fill the container completely.
Warranty: 5 years
Yeti Tundra 45 Cooler
The YETI Tundra 45 combines versatility with durability with a capacity of up to 26 cans with a recommended 2:1 ice-to-contents ratio
Ice stays ice thanks to up to 3 inches of PermaFrost Insulation and an extra thick FatWall design is certified Bear-Resistant
The Rotomolded Construction makes the Tundra armored to the core and virtually indestructible so wherever you decide to take it, this portable cooler's sturdy construction will stand up to the rigors of the journey
Frequently Asked Questions
1. What is the difference between Yeti Tundra 45 and Yeti Tundra 35?
Both the Yeti Tundra 35 and 45 provide you with hot- and cold heat-retaining capabilities.
The Tundra 35 is a few inches shorter than the 45. Its dimensions are 21.5 x 16.75 x 16.25 inches. The Tundra 45's dimensions are 25.5 x 16 x 15.5 inches which means its storage capacity is somewhat larger than the 35.
The Yet 35 weighs in at 20 pounds while the Yeti 45 weighs in at 24 pounds.
The 45-model is able to carry 26 beer cans while the 35-model can carry up to 20 cans.
Both these models come standard with one dry goods basket.
The Yeti 35 also has 3 inches of PermaFrost Insulation to ensure everything remains nice and icy cold. This PermaFrost Insulation is made from polyurethane (PU) foam. Apart from this PermaFrost, there is also the ColdLock Gasket which is found in the lid to resist heat intrusion.
Both Tundra models are dry ice compatible. This is important, seeing that dry ice is able to keep food and drinks cold and also frozen for longer than regular ice.
2. How does one carry the Cooler Box from Yeti?
Both the Tundra 35 and 45 are great for all your outdoor escapades, from camping to fishing to boating and barbecuing. There's a wonderland of activities to be enjoyed when you have the right equipment. So how does one carry the Yeti 45 cooler box, especially when it's packed with beer and ice?
There are actually two ways to carry your Yeti Tundra 45. One of the most popular and more common ways is with the Double Haul Handles. Yeti have wisely replaced the plastic handles with these military-grade polyester rope and rubberized handles.
The other designed way to haul your Yet 45 is with the LipGrip Handles which are fairly well hidden from sight. Generally, people prefer to use the Double Haul Handles.
3. Is the Yeti Tundra 45 worth it?
Oh yes. All you have to do is read some customer reviews on those who have used it to be convinced. It's a tremendously durable cooler and a worthwhile investment.
Most people say that the hype around the cooler is justified. They go ahead and buy the cooler based on the amazing reviews they read. Having used the hard box for camping trips and other adventures they say that its capabilities have blown them away.
4. How many beers will fit in a YETI 45?
With a dimension of 25.5 x 16 x 15.5 inches, the Yeti 45 has a capacity of 28 beer cans.
5. How long does ice last in a yeti cooler?
Yeti coolers are known to hold ice longer than normal coolers. Generally, if you meet the storage requirements, Yeti coolers can hold ice for up to 3-5 days. To note it is reliant on the size of the Yeti cooler. You may want to refer here to check the different yeti cooler sizes and the relative ice holding times.
6. Why are yeti coolers so expensive?
Yeti coolers are classed as branded and premium products which makes them more expensive. With this comes some added features such as better ice retention and keeping food and drinks colder for a longer time. Yeti continues to improve the existing product quality to keep up with the changing needs and product demand. And for this very reason, people prefer Yeti products despite the high price.
Advantages and Disadvantages
What's to like?
Yeti have produced a cooler box designed to last for decades – possibly a lifetime.
Its construction is heavy-duty rotomolded and certified as bear-resistant.
The lid interlocks firmly with the body of the cooler.
Heavy-duty T-Rex lid latches ensure a tight seal.
The Neverfail Hinge System of the lid keeps it open when you're busy in and out of the box.
Non-slip feet.
A small drain at the bottom keeps the cooler box free of accumulated water.
What's not to like?
Its storage capacity isn't as large as what you'd like. This is put down to the 3-inch-thick insulated walls.
It has a costly price tag.
Conclusion
When it comes to food and drink in the great outdoors, there is no such thing as warm, limp, soggy food. With a Yeti Tundra 45 review, you get the idea that it's the favorite hard cooler for most people.
Sean is an accomplished backpacker with over 10 years of experience exploring the great outdoors. He has a passion for hiking, camping and off-grid living.