One of the best ways to fully experience nature and the night sky when you go camping is with a clear-top tent. Clear-top tents let you see the stars at night or enjoy a sunny day while still being protected from bugs. You can also admire a rain shower without getting wet as you hang out in your tent. We have reviewed other Stargazer tents in a separate article.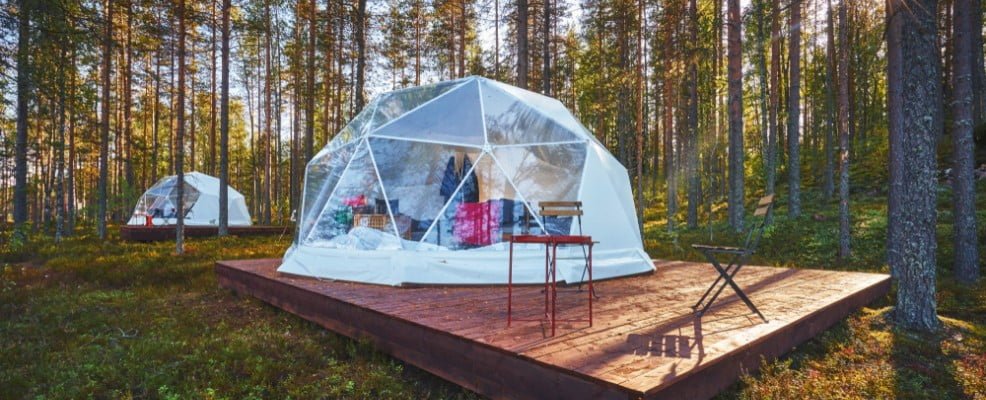 Below you will find the five best clear-top tents, which are great for camping and stargazing. Some are clear bubble tents, and some are just simple, clear tents. No matter which one you choose, you will have great outdoors and night sky views. To compare the features of clear tents, see the detailed comparison table below. And if you are looking for something totally opposite, see our review on blackout tents.
Our Team's Best Clear Top Tent Picks
Preview
Best Overall Clear Tent
Best Budget Clear Tent
Most Durable Clear Tent
Luxury Clear Tent
Biggest Clear Tent
Product
EighteenTek Clear Pop Up Tent
RUNBOW Outdoor Bubble Tent
Alvantor Pop Up Bubble Tent
Luxury Clear Tent
Preview
# 1. EighteenTek Clear Pop-Up Camping Tent [Stargazing Transparent Outdoor Bubble]
EighteenTek Clear Pop Up Tent
Great Idea! Do you want to have a special and unforgettable camping trip outdoor? It is so easy! You may go stargazing on mountain overnight, watching meteor shower inside this clear capsule tent. Or you just lay down at your backyard or park, seeing a glimpse of the stars inside this clear bubble tent. Enjoying a romantic moment with your lover, family or even yourself!
Patented Design: Different from traditional camping tent, this clear tent is made of super transparent PVC, providing a 540° all around outdoor view. It is a fantastic choice for stargazing at the night, or sunbathing at day time. The unique clear capsule shape make you prominent, charming and attractive from others on the market.
Considerate Details: The large door is easy to get in & out. Glow-in-the-dark double side zippers allow you to quickly find it at night. Mesh window provides enough air flow while free from bugs. The durable PE floor cleans your belongings from dirty ground (you may use extra purchased PE mat floor for full waterproof in paddle ground). It comes with a removable waterproof PVC top cover, protects you in rainy days. All guylines and stakes can strengthen the stability.
The EighteenTek Clear Pop Up Tent is a remarkably clear roof camping tent that offers a unique and immersive outdoor experience. The tent is a transparent bubble. You can fit four people in the tent for a 360-degree view of the surrounding nature and the night sky.
With dimensions of 88 inches in length, 54 inches in width, and 39 inches in height, this portable shelter offers sufficient space for two individuals to sleep and relax comfortably. Its weatherproof construction ensures protection against the elements, allowing you to enjoy the outdoors without worrying about rain, wind, or cold temperatures.
Setting up the tent is easy, thanks to its instant pop-up design. Within minutes, you can have your shelter ready to use. Whether you're going on a camping trip, attending a music festival, or just want some protection from the elements when you are stargazing, you can rely on this tent to go up fast.
Its lightweight and compact design makes it easy to transport and store when not in use. The tent fits into a compact carrying case and weighs just 8.4 pounds so you can carry it anywhere easily.
Experience the wonders of the great outdoors in a new way with the EighteenTek Clear Pop-Up Tent – the perfect companion for those seeking adventure and a captivating view of the world.
# 2. Alvantor Pop-Up Bubble Tent [Cold Protection Camping Tent]
Sale
Alvantor Pop Up Bubble Tent
YOUR OWN PERSONAL BUBBLE: An automatic pop-up, no assembly needed igloo tent perfect for setting boundaries between you and others out in public or in the privacy of your own space. Simply pop-up, secure, and enjoy the personal space to the fullest.
POP-UP BUBBLE TENT THAT FOLDS DOWN: Innovative fiberglass ribs pop up in seconds with little assembly required thereafter. Choose to secure down to the ground with sandbags or guylines, and enjoy in your backyard, garden, or hosting small parties and events. Once you're finished, fold the tent down and store in the carry case.
PATENT PROTECTED ALVANTOR DESIGN: This winter screen house measures at (Width: 12', Depth: 12', Height: 8') and comes with a compact carry bag. Weighing just 32 lbs, this pop up igloo tent has a innovative folding technique making it easy to fold down and store back in the carry bag. Ready to go in minutes!
The Alvantor Pop-Up Bubble Tent is a spacious and versatile outdoor shelter that provides a unique camping experience. With its instant setup feature, this igloo tent effortlessly expands into a large screen house. You just need to set the tent where you want to camp, and it will pop up automatically.
It is also easy to disassemble the tent thanks to the innovative folding technique. Then you can easily put it in the carrying bag until next time.
The tent comes in different sizes, so you have options depending on how many people you want to fit in your tent and how easy it is to transport your tent when camping and traveling.
Here are the size options for the Alvantor tent:
6' by 6'
10' by 10'
12' by 12'
15' by 15'
Crafted with durable materials, this weatherproof pod ensures optimal protection against rain, wind, and cold temperatures, allowing you to enjoy outdoor activities all year round. Its beige color adds a touch of elegance, blending seamlessly with any outdoor setting.
The bubble tent's innovative design includes transparent PVC walls, so it is made to last and withstand wind and rain. The sturdy frame ensures stability, while the built-in ventilation system promotes air to flow in and out of the tent to stay cool.
# 3. CZGBRO Bubble Tent [Dome House Camping Tent 12ft]
CZGBRO Bubble Tent Dome House Camping Tent
【TRANSPARENT BUBBLE TENT】:Transparent material, which will allow you to enjoy a 360 degree view of the outdoors. PVC allows for a warm and relaxing outdoor space for you and your family.
【HIGH QUALITY MATERIAL】:This garden igloo dome is made of durable ABS plastic frame with thicken PVC cloth. It has a zippered front door, two triangular zipper windows that can seal shut. Waterproof treatment and double-stitched reinforced sewing applied to prolong its service life.
【LARGE CAPACITY】:This garden igloo dome tent has a diameter of 12ft. Max height is 7ft. The base area is 107 ft². Big bubble house providing a spacious interior shelter that comfortably fits 4-7 adults, huge interior space for patio furniture.
Introducing the CZGBRO Bubble Tent Dome House Camping Tent, an excellent choice for those seeking a clear bubble tent. This dome-shaped tent boasts a 12-foot diameter, providing ample space to comfortably accommodate between four and seven people. Whether you're planning a camping trip or organizing an outdoor gathering in your backyard, this tent fits the bill perfectly.
Constructed with transparent PVC material, the tent offers excellent visibility and allows natural light to flood in during the day, resulting in a unique and enjoyable camping experience. Not only is the material waterproof but it is also double-stitched for enhanced durability, ensuring it withstands frequent use and harsh weather conditions.
The dome shape of the tent is intentionally designed to withstand winds of up to 31 miles per hour, making it a reliable choice even in breezy conditions. Additionally, it can handle up to 90 pounds of lying snow, enabling you to use the tent in snowy environments without worry.
With its easy setup process and versatile usage options, the CZGBRO Bubble Tent Dome House Camping Tent is a fantastic bubble tent choice. Whether you need it for camping, as a garden outdoor clear dome shelter, a canopy gazebo, a screen house room, or a fun backyard shelter, this tent delivers on all fronts.
# 4. RUNBOW Outdoor Bubble Tent [Weather Resistant Cold Protection Tent]
RUNBOW Outdoor Bubble Tent
💪【PATENT PROTECTED DESIGN】RUNBOW portable bubble tent adopts a unique insert-rod design, more portable and study than other pop-up bubble tents on the market. The fiberglass robs are lightweight, with no rust, no warp, and no deform. Features internal 4 hooks to hang coats or bags, and an extra support function to increase stability during windy or snowy. The domed triangle design on the top of the tent helps better water drainage and snow removal.
🍀【CERTIFIED PREMIUM MATERIAL】EU Certified is safety and environment-friendly. Different from other PVC bubbles on the market, RUNBOW bubble tents are made of thick clear transparent EVA, which is more waterproof, cold-resistant and tear-resistant. The 540° fully transparent design allows you to enjoy the outdoor scenery while keeping you cozy and warm during cold winter or windy.
👨【SPACIOUS FOR 4-6 ADULTS】Our outdoor bubble tent provides a large space that measures 10' x10' x7' H. Enough roomy to place various pieces of furniture so you can give your bubble tent a homely feeling. A large entrance door with double zippers allows you to access from inside and out easily. There are velcros next to the door for easy hanging the lifted curtain and 4 mesh vents to keep air circulation in hot weather.
The RUNBOW Outdoor Bubble Tent is a spacious, durable option for a clear-top tent. Measuring 10 feet by 10 feet with a height of seven feet, it provides ample space for up to six people.
This tent features a 360-degree clear design, allowing you to enjoy uninterrupted views while staying protected from the elements. Its weather-resistant construction ensures suitability for use in sun, rain, wind, and other harsh weather conditions, making it a versatile choice for all four seasons.
Setting up the tent is a breeze. Simply insert the poles through the tent, secure it to the ground, and watch it effortlessly pop up. When you're ready to pack up, folding it and stowing it away in the included storage bag is a breeze.
The tent boasts a spacious door with two sets of zippers, offering easy access while effectively keeping bugs, rain, and other elements at bay. Additionally, four mesh vents promote airflow within the tent. If you desire increased ventilation, the door can be easily lifted and secured with four velcro holders to keep it open.
With its spacious interior, sturdy construction, and convenient features, the RUNBOW Outdoor Bubble Tent provides an enjoyable and hassle-free camping experience for outdoor enthusiasts.
# 5. EighteenTek Sports Tent [Outdoor Bubble Tent 1-6 Person]
Camping Sun Shelter Pop Up Tent
𝐏𝐎𝐑𝐓𝐀𝐁𝐋𝐄 𝐒𝐏𝐎𝐑𝐓𝐒 𝐓𝐄𝐍𝐓: Constructed with a strong fibreglass frame and weather-resistant fabric, you can set up your pop up sports tent anywhere for quick and easy protection against the elements.
𝐅𝐔𝐍𝐂𝐓𝐈𝐎𝐍𝐀𝐋 𝐒𝐈𝐙𝐄: Measuring in at Width (63") x Length (63") x Height (63"), and weighing only 11.8 lbs, your bubble tent will provide comfort for up to 4 person.
𝐏𝐀𝐓𝐄𝐍𝐓 𝐏𝐑𝐎𝐓𝐄𝐂𝐓𝐄𝐃 𝐅𝐎𝐋𝐃𝐈𝐍𝐆 𝐌𝐄𝐂𝐇𝐀𝐍𝐈𝐒𝐌: Once the day is coming to an end, it's time to pack away your pop up shelter. Our protected design allows you to fold and quickly store away your clear sports tent effortlessly.
The EighteenTek Sports Tent is another great clear top tent. It boasts a unique and innovative instant pop-up design, making setup a breeze. This versatile tent is designed to accommodate anywhere from 1 to 6 people, making it suitable for solo adventurers or small groups.
The tent is constructed with a patent-protected, clear material that offers excellent protection against rain and sunlight, ensuring a comfortable experience regardless of the weather.
I like all the size options you have with this tent. Here are the options you have depending on how many people you want it to fit and how portable you want it:
40″ x 40″ x 62″ H
40″ x 40″ x 62″ H (Two pieces)
50″ x 50″ x 62″ H
63″ x 63″ x 63″ H
72″ x 72″ x 65″ H
Durability is a key feature of the EighteenTek Sports Tent, as it is built to withstand the demands of outdoor use. It is lightweight and highly portable, allowing for easy transportation and storage. Whether you're embarking on a camping trip or attending an outdoor event, this tent provides a spacious and reliable shelter while allowing you to enjoy the beauty of nature.
Comparison Table: Clear Top Tent
| Clear Tent | Price | Size | Occupancy | Material |
| --- | --- | --- | --- | --- |
| EighteenTek Clear Pop Up Tent Camping Stargazing Transparent Outdoor Bubble | $134.99 | 88″ L x 54″ W x 39″ H | 4 people | Polyvinyl Chloride |
| Alvantor Pop Up Bubble Tent | $699.99 | Multiple options | Varies by size | Polyvinyl Chloride |
| CZGBRO Bubble Tent Dome House Camping Tent 12ft, Garden Outdoor Clear Dome Shelter Geodesic Dome | $959.99 | 144″ L x 144″ W x 84″ H | 7 people | Polyester, Polyvinyl Chloride (PVC), Plastic, Acrylonitrile Butadiene Styrene, Metal |
| RUNBOW Outdoor Bubble Tent, 10′ x 10′ Portable Bubble Shelter 4-6 Person Clear Tent for Backyard | $249.99 | 120″ L x 120″ W x 84″ H | 6 people | EVA |
| EighteenTek Sports Tent – Instant Tent Shelter – Outdoor Bubble Tent 1-6 Person – Rain Tent Camping Sun Shelter Pop Up – Clear, Patent Protected Design | $199.99 | Multiple options | Varies by size | Polyvinyl Chloride |
Buying Guide Questions: What to Look for in a Clear Top Tent?
When searching for a clear top tent, there are several key factors to consider.
Firstly, consider the occupancy of the tent. Determine how many people will be using the tent and ensure that it provides sufficient space for everyone. Look for tents with multiple sizes or customizable layouts to accommodate different group sizes. Additionally, consider the tent's height and headroom, as taller individuals may require more vertical space.
Secondly, price is an important consideration. Set a budget and search for tents within that range. Clear-top tents come in various price ranges, and while higher-priced options may offer more durability and advanced features, it's crucial to find a tent that suits your needs without breaking the bank.
Lastly, pay attention to the tent's material. Look for a high-quality, weather-resistant fabric that can withstand different environmental conditions. Ensure that the material provides adequate ventilation and UV protection, as excessive heat or harmful rays can be a concern. Also, choose a sturdy, reliable material capable of withstanding wind and rain.
By considering occupancy, price, and material, you can decide when to select a clear top tent that meets your camping requirements. Remember to also consider other factors such as ease of assembly, weight, and additional features like storage pockets or mosquito netting to enhance your camping experience further.
Frequently Asked Questions – Clear Tent
Verdict
Having a clear tent is a great way to connect more with nature during your next camping or hiking trip. A clear tent will also give you the opportunity to stargaze without being exposed to the elements.
The best option for a clear tent is the EighteenTek Sports Tent – Instant Tent Shelter – Outdoor Bubble Tent. You can choose from multiple sizes and occupancy options. It is also budget-friendly compared to other clear top tent options and is made of durable PVC.
However, you also have plenty of other options, including larger and more luxurious clear-top tents if they suit your needs and budget better.
No matter which clear top tent you choose, you will have a great camping experience and stay protected from the elements.
Andrea is passionate about going on adventures and enjoys spending quality time with her loved ones, whether it's hiking through the mountains or camping by the lake.