Every time I went camping I always had to carry around a heavy cooler that wouldn't even keep my food cold for over 3 days!
I have learned a lot and made an article on how to preserve your food in a cooler, so I'd like to think it was my cooler.
The Yeti Tundra 35 is a reliable, amazingly durable, long preserving cooler that keeps your food and drinks lasting for days with one killer feature – portability. It can have a few downsides which I'll mention in this review, but this is the best cooler I've ever purchased.
Actually, I'm so happy with this cooler that I got another for my friend.
Yeti Tundra 35 Cooler
The YETI Tundra 35 is portable enough for one person to haul while still having an impressive carrying capacity of up to 20 cans with a recommended 2:1 ice-to-contents ratio
Ice stays ice thanks to up to 3 inches of PermaFrost Insulation and an extra thick FatWall design is certified Bear-Resistant
The Rotomolded Construction makes the Tundra armored to the core and virtually indestructible so wherever you decide to take it, this portable cooler's sturdy construction will stand up to the rigors of the journey
How good is the insulation?
In all honesty, this is one of the best-insulated coolers you'll ever find on the market.
On my last solo camping trip, this beast preserved my food and drinks not for a few days, but for a week!
You might be asking, well how's that possible? It's pretty simple actually.
The cooler itself is so good that you can just dump in a bunch of ice and it'll last for 4 to 5 days. I made my food last a week with a few simple food-lasting tips and tricks.
The cooler can also withstand insane temperatures, I'm talking dry ice temperatures. This is the main reason why I actually picked this cooler because dry ice is 3 times more effective than regular ice.
It's one of the methods I talked about in the article that I linked above.
The walls are actually made with PermaFrost insulation, which has been injected with pressure during manufacturing so the inside temperature is not influenced by outside temperature.
These PermaFrost insulation walls are 2 inches thick on the sides and the lid is 3 inches thick! The lid matters the most on a cooler which is why it's so thick.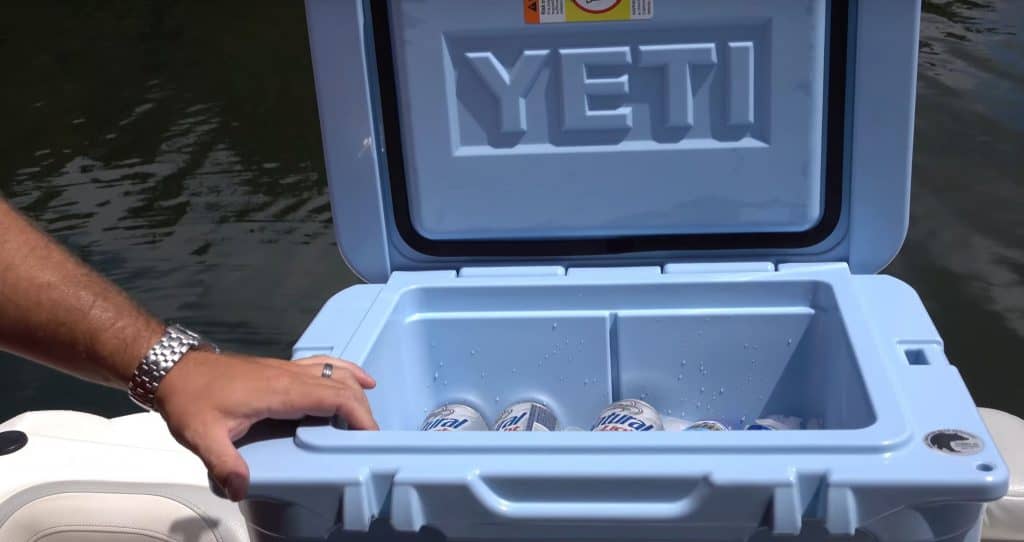 The amazing build
Yeti has a reputation for making some of the most sturdy and highest quality coolers on the market.
I've got to say, I've been a huge fan of theirs for a long time!
This cooler is made of rotomolded polyethylene, the same stuff used in many kayaks on the market.
I've got no clue what rotomolding is, but it's patented by Yeti and makes it retain ice better than almost anything else on the market.
It's extremely durable and withstands almost any pressure you give it because of the way it's constructed.
This means that you can sit or even stand on it for as long as you want.
You can now bring one less chair for your trip!
This cooler will basically never break or spill over (I will mention how it doesn't spill over later on in this review).
There are rubber feet at the bottom to hold the cooler in place no matter where it is, be it on a boat or a slippery surface.
The sides are extremely easy to wipe down, even with a small rag. There is no cooler smell left over because of the material the cooler is made from.
Yeti cooler sizes
This right here is the main reason why people chose this cooler, it's a perfect size.
It's actually the smallest cooler in the Yeti Tundra series.
Outside: 16 1/8" × 15 3/4" × 21 3/8"
Inside: 9 3/8" × 10 5/8" × 13 7/8"

These are the dimensions given by Yeti above. The small length of the cooler is really nice because it allows for extremely easy carrying.
The small dimensions of the cooler also give you tons of space in your vehicle.
This cooler is also perfect if you usually go camping alone or with another person.
It's also very tall, which makes up for the short length of the cooler. You can basically make any bottle stand upright, no matter the size!
This is great because I cool my cooler sometimes with large frozen water bottles.
It's honestly one of the best features of this cooler.
This cooler is just 20 pounds, which might sound like a lot, but it's measly compared to most other coolers you'll find!
20 pounds becomes extremely light when carrying the cooler with 2 hands or with a partner.
It does have a smaller capacity which might be a turn-off, but it can fit up to 42 cans of beer (without any ice). It's the perfect cooler if you're going camping by yourself or with a partner.
With a 2:1 ice-to-contents ratio, it can fit up to 21 beer cans and 26 pounds of ice! It's impressive how much this cooler can actually hold.
The name of the cooler suggests a 35-quart capacity, but it can really hold only about 28 quarts. This is because of the thick insulation, which I think is totally worth the compromise!
If you are looking for a slightly bigger cooler, then check out Yeti Tundra 45 specs and features.
Yeti cooler's unique features
This cooler offers many killer unique features that I absolutely love.
1. A gasket
There is a gasket right under the lid that prevents any air from escaping the cooler. This beast doesn't just "shut", it completely seals, unlike any other cooler!
The gasket is also made from a very durable rubber.
Yeti actually said that it's cooler keeps the air in as good as a refrigerator.
2. T-latches
These are also called "t-rex latch handles" by Yeti, but I don't prefer calling them by that silly name.
These latches prevent the cooler from being accidentally opened or spilled. They're also extremely comfortable to grab and look really good.
The cooler can't be opened under extreme stress, but can easily be opened by me!
These latches are incredible because every other cooler has had some sort of latch system that'd crack or snap in extreme heat.
These latches are made from some sort of car-like rubber material, I don't exactly know what from.
3. The hinge system
There are 2 huge hinge pins that hold the body and the lid together very tightly. It's very durable, so it won't ever break when you close the cooler or put pressure on the lid.
There is a metal rod that goes through the 2 hinge pins, and it will never rust. You can't even see it since it's covered with plastic!
The hinge pins are actually molded on the lid to prevent them from breaking off, which was a very smart move by Yeti again.
I've repeatedly tested opening the cooler hundreds of times in a row just for testing purposes and the hinge system has remained perfectly intact.
4. Bear resistance
This cooler is extremely bear-resistant to my surprise, it contains a feature that I never noticed.
When I looked closely, I noticed 2 little holes on the front corners of the lid.
You can actually put small locks inside these holes and they will keep the cooler from being opened or spilled no matter what.
Keep in that locks do not come with the cooler, you will need to buy them separately!
This was a bit ridiculous since the cooler is pretty expensive, but the locks I got weren't that expensive anyway.
If you don't believe this cooler to be as bear-proof as I make it sound, the Inter-agency Grizzly Bear Committee actually certified it as being top bear-resistant.
If you buy this cooler, you will see a little badge on the right corner from the committee, it looks pretty neat!
5. Lip grip handles
This is what Yeti calls these special handles molded in the body.
They're basically grooves that you can grab onto and make for very easy carrying.
You can easily find them since there's a large indent on the sides of the body, which is also where the double haul handles are located.
6. Double haul handles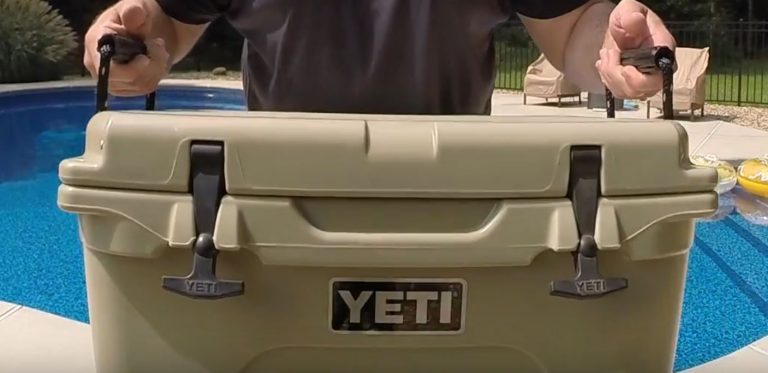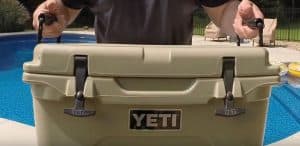 These handles are actually made with military-grade nylon rope. This makes them nearly impossible to tear or rip.
Since it's also made of rope, it's extremely comfortable to carry no matter the weight of the cooler.
The benefit of these handles is that 2 people can actually carry the cooler at once!
Just get somebody to hold onto one of the handles while you hold onto the other, and boom. Easy and efficient transport!
7. Tiedown slots
There are 2 tiedown slots on the sides of the cooler which allow you to tie it to a boat or the back of your truck!
Just fit the tie-down via a strap of your liking and you're good to go!
The great thing about these slots is that they do not get in the way of your cooler.
You are still able to close the lid and not affect the gasket system in any way!
8. The drain system
The cooler comes with one of my favorite features that I think all coolers should come with, a drainage system.
This cooler comes with a vortex drain system which allows you to empty water from the cooler very quickly.
Keeping water inside your cooler actually melts your ice faster, so it's great that you can just let out the water whenever you want!
The drain plug is made of a nice rubber material and is easily replaceable.
If you lose it you can always just get a new plug.
Some Cons
This cooler will have some downsides to it, like every product. I was surprised though at how little there were!
It is a bit more expensive than most competitors, it's usually priced around $250. I did get it on sale though for around $200 which was a really good price!
Check the current price of this cooler on Amazon.com.
Also, you must make sure to tightly twist the drain valve. I left it a bit open and a lot of warm air got into my cooler!
One last downside to this cooler that I found was that I pinched my fingers a lot on the t-latches. You've got to pay attention when using them.
Yeti cooler accessories
Yeti is nice enough to include a few accessories (which I'd expect at this price point)!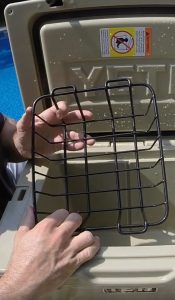 You will get a dry food rack which basically allows your perishables to not get soggy, the rack stays right under the lid. It's actually great and the perfect size for a sandwich or some fruit!
I put my sandwich inside and it didn't get wet or soggy for hours. It was a pretty delicious sandwich if any of you are asking.
The rack is made from heavy gauge metal, which means it is not pliable. It is one of the most darn sturdy things I've ever seen!
I tried to bend it, twist it, everything! It just wouldn't budge! I hope you guys don't consider me insane for doing this, I was just interested and curious.
I also got a little Yeti bottle opener when I purchased the cooler. I mean, it's still something.
There are a lot of extras you can separately buy to complement your cooler!
1. Tundra dividers
These are actually extremely useful and I'm surprised that Yeti doesn't include them with their coolers.
They basically prevent your food from getting crushed or your drinks from smelling.
You can buy either horizontal or vertical tundra dividers, whatever your heart desires. I got vertical tundra dividers to separate my drinks!
You can also place them wherever and however you want.
Sale
2. Tundra seat cushion
When you have a cooler that can withstand basically all pressure, why not get a little seat cushion so you can sit on it comfortably?
The cooler is a great place to sit on (as I mentioned earlier).
Just buy a seat cushion and relax!
No products found.
3. Yeti insulated cup
Yeti calls this the "insulated tumbler" but I like to call it a cup, it's easier.
This cup is pretty expensive, but it's one of the best-insulated cups you'll ever find on the market.
It keeps your water cold or warm for at least 8 hours minimum.
You can free up some space in your cooler by carrying an insulated cup.
4. Yeti ice packs
Yeti sells some pretty good ice packs on their website which fit inside the cooler really well.
Ice packs are a way better alternative to ice and are reusable!
No products found.
5. Red holster
Lastly, getting a red holster is also a really good idea.
It's great for fishing if you don't want your fishling lines lying on the boat floor or sticking out of your boat.
A red holster keeps your rod firmly cast in position.
You can just slide it to the anchor point of the tundra and you're good to go!
Conclusion
Overall, this is an amazing cooler for you to get. I've had this cooler for many months and it's been in perfect condition.
If you are looking for a bigger but more expensive cooler, I'd recommend the Yeti Tundra 35. If you're looking for a cheaper but smaller cooler, I'd go with the Yeti Roadie 24. And if you are looking for a slightly bigger cooler then I would highly recommend either Yeti Tundra 45 or 65. See the difference between Yeti 45 and 65 in detail.
Yeti Roadie 24
The Roadie 24 is 10% lighter in weight and holds 20% more than a Roadie 20, it even performs 30% better thermally
It's got a taller build than its predecessor, so it now accommodates a standard bottle of wine (or 2 liter bottle) upright, and is a better fit behind the driver's or passenger's seat of a car
ROTOMOLDED CONSTRUCTION - Evolved to be thinner and lighter-weight for easier transport, while still incredibly tough
There are 4 beautiful color options to choose from, I went with the color "Seafoam". The design is also very good and above par.
You get a Yeti branded cooler with insane insulation and cooling, but at a pretty high price. It's rated 4+ stars on every website including Amazon, REI, and their own website.
The cooler is also very versatile and can be used in every season.
You'll get a 5-year warranty if you purchase in the US which is pretty incredible, and it's also manufactured in the US!
I think this is the best cooler on the market for portability and insulation.
Sean is an accomplished backpacker with over 10 years of experience exploring the great outdoors. He has a passion for hiking, camping and off-grid living.