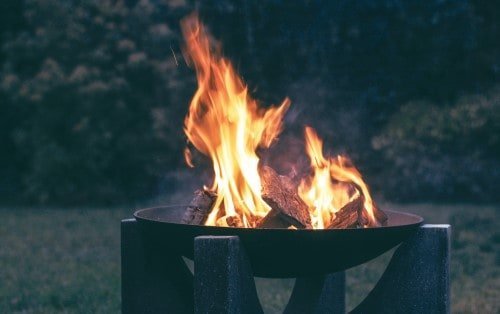 Smokeless fire pits are an alternative to regular fire pits with similar performance but are almost smokeless. One of the biggest concerns of smokeless fire pits is the smoke. Heavy smoke can make it difficult to light a fire. It also makes your clothes smell of smoke every time you make a fire.
Smokeless fire pits were invented by following the principles of buried fire pits. Users had to make the fire from above but the fire still needed air intake to burn continuously.
This is when the fire pit had to be made in such a way that allows air intake from below. Smokeless fire pits follow the same concept, but without requiring you to place your fire pit in the ground.
What are the basic principles of a smokeless fire pit?
Smokeless fire pits work by having extra air intake at the bottom which creates secondary combustion when this air heats up and reaches the top of the flame.
Air circulation is ensured through a system of double walls. These walls are perforated at the bottom and at the top to support this extra airflow circuit.
Smokeless fire pits are known for combining secondary combustion with primary combustion to eliminate the smoke.
Secondary combustion is determined when air from below the fire pit warms up, travels through its double walls, and makes its way out through the perforations located under the fire pit ring.
This is the time the secondary combustion burns the primary combustion combining into a single large flame that burns almost all smoke released by the fire.
Types of smokeless fire pits
Smokeless fire pits achieve a smokeless fire performance using different designs, materials, and fuel. The type of fuel a fire pit takes is dictated by its design.
1. Wood fire pits
Logs are the primary type of fuel used in smokeless fire pits. Cost-effective and efficient, logs offer the smokeless performance and the heat many people are interested in when it comes to smokeless fire pits.
Dry logs offer the least amount of smoke and they are normally used to make a large fire quickly. Most fire pits are made with an opening of at least 24" which supports standard logs you can buy in hardware stores.
Fire pits with an opening or diameter of the burning chamber that's smaller than 24" are not recommended for logs that can be bought in hardware stores.
2. Pellets fire pits
Wood pellets are the second most common type of fuel used in smokeless fire pits. Small pellets have the advantage of burning quickly, diminishing the time needed to make a fire.
Wood pellets can be ignited quickly and they can be stored easier compared to logs. Most types of wood pellets are sold in plastic bags which support any type of transportation without creating a mess in the car as logs or other types of fuel.
3. Charcoal fire pits
Some fire pits are known to work on charcoal as well. This type of fuel is more common in barbecues but it's used in fire pits as well.
Charcoal has the price advantage of being more affordable than logs and wood pellets. On the other hand, charcoal is not the best for creating a large flame or for sustaining a large flame for a long period as logs.
What to look for in smokeless fire pits?
While the principles of a smokeless fire pit are similar, the way they are constructed differs considerably. Some smokeless fire pits are made for home or commercial use while others are portable and suitable for camping.
Steel and stainless steel are the main materials of a good smokeless fire pit. These are durable even under the high heat output of a fire.
Both the inner and the outer parts of a fire pit should be made from pure steel. Other types of materials of a non-ferrous nature should not be added to smokeless fire pits.
Plastic parts such as plastic handles aren't seen on the most durable fire pits.
Modern fire pits with a diameter of at least 24" weigh between 50 and 140lbs. The higher the weight of a fire pit, the more difficult it becomes to move around.
Heavyweight smokeless fire pits are recommended for home use and commercial use. Those who don't plan on using the smokeless fire pit away from the home can choose a heavyweight design made for a large fire.
Some smokeless fire pits are made with a versatile design. They might even take accessories such as a grilling plate, a stir plate, or overhanging accessories for beverages.
Smokeless fire pits aren't necessarily made for cooking. But there are a few good designs that support basic grilling and heating up a beverage.
If you are planning to DIY a smokeless fire pit, then our article here provides a step-by-step guide on how to accomplish that.
Can you cook on a smokeless fire pit?
A smokeless fire can sometimes defeat the purpose of grilling. Without the smoke, grilled food might not taste as aromatic.
This being said, there are people who like grills and who don't like the smell of smoke. Those who used electric grills know that grilled meat and grilled vegetables can taste good even without the smoke.
Grilling on a smokeless fire pit might not be supported without accessories. It's best to look for a smokeless fire pit that allows grilling or which may include grilling accessories.
Are smokeless fire pits truly smokeless?
Smokeless fire pits are mostly smokeless when they get hot. This is the time intake air becomes hot and it creates the efficient secondary combustion that burns the smoke.
Smokeless fire pits aren't truly smokeless for the first few minutes after the fire is started. They need to get warm to efficiently work as designed.
Summary
Smokeless fire pits and smokeless fire pit inserts are parts of the same smokeless system. Smokeless fire pits are the base product while smokeless fire pit inserts refer to a fire chamber that can be added to a brick or stone-made fire pit at home.
We have reviewed some of the best selling smokeless fire pits which you can here:
Both of them work on the same principle which, in essence, takes more air in at the bottom releasing it at the top for secondary combustion that burns the smoke.
Andrea is passionate about going on adventures and enjoys spending quality time with her loved ones, whether it's hiking through the mountains or camping by the lake.