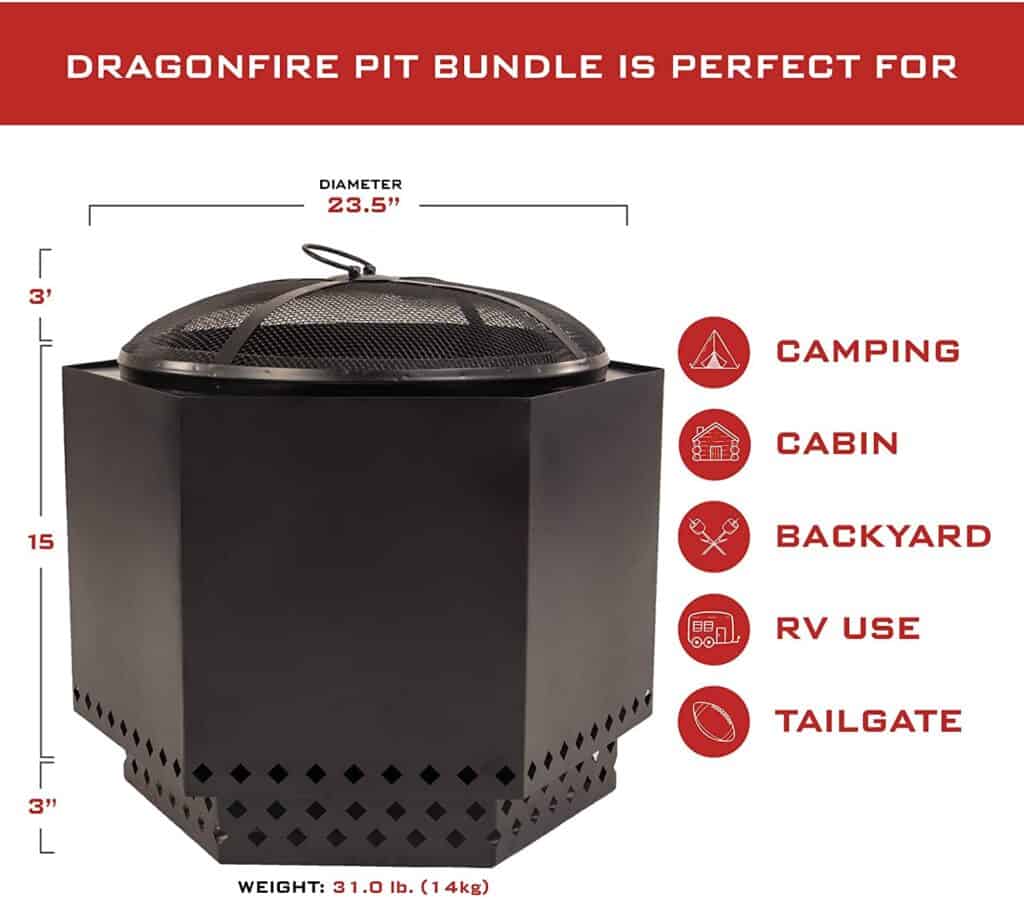 Made from pure steel, the Dragonfire smokeless fire pit is specifically designed for full-length 16-inch logs. It's one of the most durable designs in its class, offering a simple design that is made for camping, cabin, or backyard use.
The biggest asset of the fire pit is its smokeless performance. With considerably less smoke with each fire, this fire pit is recommended for those who like to get warm next to a campfire without having clothes smell like smoke.
Launched on Kickstarter, the Dragon fire smokeless fire pit is mainly a fire pit that can be turned into a grill for clients who purchase the grill grate. This option is similar to the accessories other smokeless fire pits come with (such as the Zentro Stainless Steel Smokeless Fire Pit).
Otherwise, Dragonfire's fire pit comes with a spark screen and a travel bag, typically extra in other brands.
Dragonfire Smokeless Fire Pit Features
Portability is key
Sale
Dragonfire Smokeless Fire Pit
SMOKELESS EXPERIENCE: Enjoy your fire without the nuisance of smoke; Our Dragonfire fire pit features a double-walled construction that efficiently circulates the air, allowing the wood to burn without smoke escaping
SAFE FROM HOT SPARKS: The Dragonfire bundle includes a spark screen that helps to protect you, your guests and the patio or deck surface by containing the sparks and embers in the fire pit, while still being able to enjoy the warm fire
ECO-FRIENDLY & WOOD BURNING: We recommend using dry wood logs for the best bonfire experience
One of the main benefits of the smokeless fire pit is given by its portability. While not the most compact smokeless fire pit, it's made just small enough to fit standard-length logs.
With a height of 15 inches and a diameter of 23.5 inches, it has common sizing when compared to its alternatives.
However, it's one of the compact smokeless fire pits. These types of fire pits are known for having double walls which means Dragonfire has an efficient space-saving design for 2 walls that support extra air intake which makes the fire pit smokeless.
Small but suitable for standard logs
While small, Dragonfire's smokeless fire pit fits standard 16-inch logs. These types of logs can be bought at most outdoor gear retailers. They are known for sustaining a large fire that burns a long time.
Furthermore, the smokeless fire pit is also known for running with cardboard as fuel. But this type of fuel burns for a shorter time.
Other types of fuel are also supported. Wood pellets are among the efficient alternatives to logs.
Both wood pellets and logs are considered for almost smokeless fire. For the fire in this fire pit to be truly smokeless, both logs and pellets need to be properly dry. Damp wood will create more smoke than dry logs.
No setup required
A key role of this smokeless fire pit is its efficient design. There are no installation steps to follow. You simply place the stand and the deflector ring to use the fire pit.
While other fire pits might require assembly, Dragon fire's design is mostly recommended for beginners.
A beginner-friendly design is characteristic of good camping gear. However, the smokeless fire pit can also be used at home.
Cleanup is also easy with this fire pit. You do need to turn it upside down to clean the ash, however. There's no ash shovel or tool to get the ash out in the pack. It's best to allow the ash to cool down completely before collecting it in a garbage bag.
Portable wood grill
The portability of the Dragonfire smokeless fire pit cannot be overlooked. Its included stand recommends it for home backyard or patio use. But it remains an essential solution for those who want to set up a quick campfire without having the tent and their clothes smell like smoke.
The fire pit weighs 31 lbs. This is considered lightweight in the world of steel-made smokeless fire pits. It can easily fit a car trunk to be moved to camp and from camp as often as needed.
Spark screen for extra protection
Another key reason users get the Dragonfire smokeless fire pit is the included spark screen. This keeps the fire going safely.
Sparks fly often around the fire pit. Dry wood and even wood pellets are sometimes known for creating sparks that can burn through clothes or nylon tents quickly. The spark screen is offered in the pack which can be an important money-saving feature.
Favorite characteristics about the Dragonfire smokeless fire pit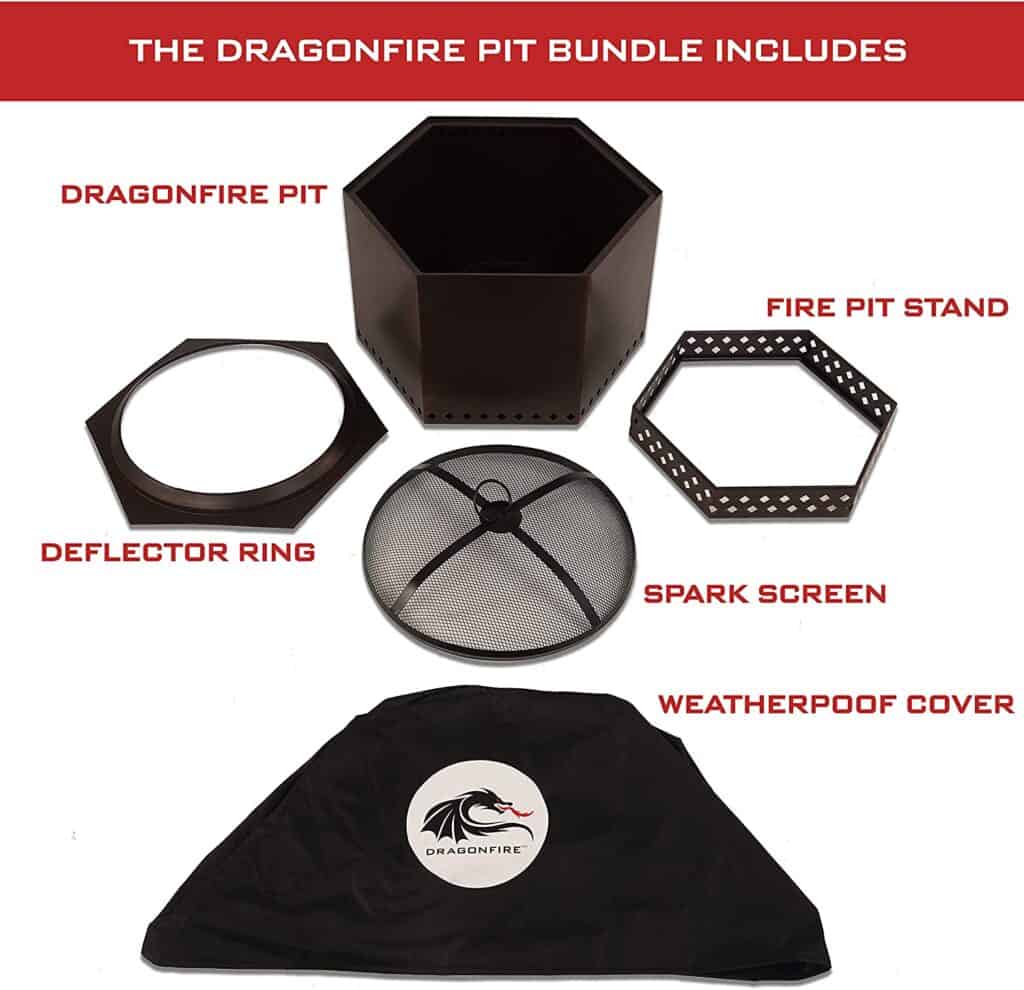 Compatible with hardwood and wood pellets
Included spark screen
Included fire pit stand and carry bag
A polyester cover is included in the pack
Top characteristics of the Dragonfire smokeless fire pit
Made from steel
23.5" diameter
31lbs weight
Mostly smokeless fire
Our least favorite features of the Dragonfire smokeless fire pit
Ash clearing is only possible by turning the fire pit upside down
Thin exterior paint coat
The bottom Line               
The Dragonfire smokeless fire pit is among the most reliable portable smokeless fire pits that fit 16in logs. While not rust-proof, it's made from pure steel which ensures its longevity.
Most importantly, the fire pit is truly smokeless. It features multiple diamond-shaped cutouts at the bottom and near the top which ensure the extra air intake that essentially burns the smoke allowing you to relax by the fire.
It's only advisable to use this fire pit for light grilling as there's no drip tray or any type of accessory to collect food drippings.
Ideal users of the smokeless fire pit include outdoor fans who want a camp-like fire at home occasionally. Most importantly, the portability of the fire pit recommends it for camping and cabin use as it comes with multiple accessories and even a travel bag.
Frequently Asked Questions
Does the Dragonfire smokeless fire pit rust?
The Dragonfire Smokeless fire pit will rust if left outside in the rain. It's always recommended to let the fire pit cool down and pack it in its polyester travel bag after each use. This prevents it from being exposed to rain or high humidity.
Is the Dragonfire smokeless fire pit smokeless?
The Dragonfire smokeless fire pit is one of the truly smokeless portable fire pits. However, it's hard to achieve 100% smokeless fire whenever the fuel (logs) isn't up to standard. Dry softwood logs tend to burn fast which enables the fire pit to heat up quickly and become more efficient at eliminating the smoke.
Can I use the Dragonfire smokeless fire pit at home?
You can use the Dragonfire smokeless fire pit both at home and in camp. While portable, its durable steel construction allows both occasional and heavy-duty use.
Andrea is passionate about going on adventures and enjoys spending quality time with her loved ones, whether it's hiking through the mountains or camping by the lake.