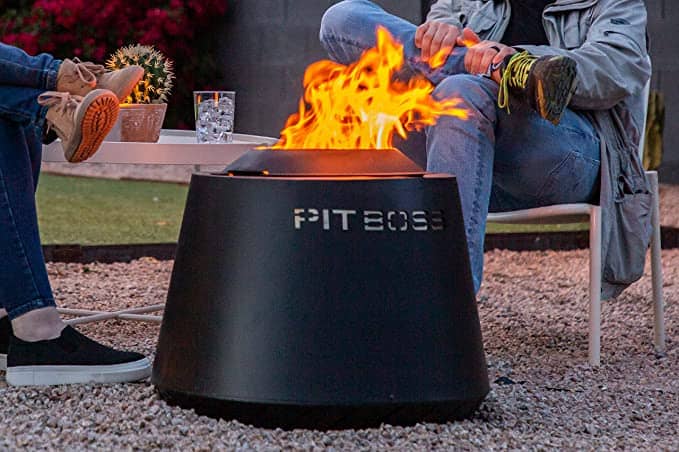 The Pit Boss Smokeless Fire Pit is one of the alternative energy options in the fire pit world. It runs on wood pellets which means it offers a completely different experience to fire pits that run on logs.
Most importantly, this fire pit burns with an almost completely smokeless fire which makes it an efficient solution for home and camping use as your clothes don't smell of smoke. Read more on how to remove the campfire smoke smell from clothes here.
Wood Pallets
aren't a new invention in the camping world as they have been used as fuel for staying warm and cooking. However, wood pellets are rather new in the smokeless fire pit world.
Pit Boss smokeless fire pit features
While construction and design are great for this fire pit, it's the capacity to run on wood pellets that makes it stand out.
Here's how this impacts the user experience.
1. Renewable energy smokeless fire pit
Renewable energy is often understood as green energy. But wood pellets are a type of recycled emerged as pellets are mostly made from leftovers of the furniture industry or biomass.
Since biomass is mostly organic matter (from agriculture) this means wood pellets are a type of renewable and otherwise waster source of energy.
Unlike solid wood, biomass wood pellets represent a type of recycling that helps keep the environment cleaner.
While biomass pellets still produce smoke, using them in a smokeless fire pit considerably reduces this impact as well.
2. Cost-effective fire
One of the major benefits of wood pellets over solid wood in fire pits is cost-efficiency. This is of reduced importance when only using a fire pit occasionally.
However, users who fire up the fire pit at least once a week need to think about costs.
Wood pellets are sold in bags which means they can last a long time. They're also cheaper compared to the exact weight in solid wood. In other words, wood pellets offer a cheaper alternative for a campfire at home or while in the outback.
Keeping an eye on costs is important for those who truly love the outdoors and who spend a lot of time outdoors. Together with the reduced impact on the environment, wood pellets prove a superior choice to all types of hardwood logs which increase in price year on year.
3. High combustion efficiency (low moisture)
The Pit Boss Smokeless Fire Pit has been highly praised for its high combustion efficiency. This is partly based on the efficient design of the fire pit itself and partly based on the low moisture nature of good wood pellets.
Unlike logs which might not be completely dry when collected from woodlands, wood pellets are stored in air-sealed bags and are almost moisture-free.
This means wood pellets fire up quickly and maintain a constant flame compared to a smokeless fire pit that runs on logs.
4. Durable 4-piece construction
Pit Boss is not one of the brands that offer a 1-piece smokeless fire pit. This can be seen both as a benefit and as a drawback. While it requires quick assembly, it's also a fire pit that's very easy to clean due to its disassembly options.
All of its pieces are steel-made which guarantees their durability.
5. A great option to use as a fertilizer
Biomass is wood pellets that produce beneficial ash. This ash can be stored in metal containers and used as fertilizer.
Many of those using the Pit Boss Smokeless Fire Pit say they repurpose leftover ash around the garden to fertilize raised beds and flower pots.
How to clean the Pit Boss smokeless fire pit?
Cleaning the fire pit requires a different process to cleaning a 1-piece alternative fire pit. All parts need to be taken out for efficient cleaning,
Always clean after 2-3 burns (when used at home)
Always clean after 1 burn (when used in camp)
Regular use of the fire pit requires taking it apart to remove any leftover ash and wood pellets such as in-between. Here are the parts that can be cleaned on the Pit Boss Smokeless Fire Pit.
Windbreak
Burner
Burner shell
Logo plate
Ash pan
Foot mats
Top Pit Boss smokeless fire pit specifications
11.5" burn chamber
Made from steel
Double-wall construction
Exterior burner shell
Integrated ash pan
Removable windshield
The easy lift burn chamber
Our favorite features
Controlled heat output through wood pellets use
An alternative to fire pits that run on logs
Modern design
Good-looking flame based on the included windbreak
Our least favorite features
The fire doesn't last as long as with logs
The bottom line
The Pit Boss Smokeless Fire Pit is an excellent alternative to other smokeless fire pits such as the Dragonfire Smokeless Fire Pit as it runs on wood pellets. This means it's cheaper to run in the long-term and that it's also convenient to use.
Most importantly, this smokeless fire pit is more eco-friendly than others, especially when the pellets inside are actual biomass. These types of pellets are made with leftovers from agricultural crops such as dry corn which means everything is recycled and reused without much waste.
Pit Boss Smokeless Fire Pit FAQs
Sean is an accomplished backpacker with over 10 years of experience exploring the great outdoors. He has a passion for hiking, camping and off-grid living.