The Zentro Smokeless Fire Pit insert is designed to fit existing masonry or brick fire pits. Designed and made in the US, this is a 1-piece fire pit insert that is used in DIY home fire pits.
The fire it inserts is characterized by a simple design and it comes in 3 sizes to suit multiple family members.
However, one of the main qualities of the steel fire pit is its sustained smokeless fire. This is possible once the insert gets hot (within 10-15 minutes of fire burning).
While still a fire pit insert, Zentro comes with a list of compatible accessories which turn it into a complete fire pit.
Breeo X Series 19 Smokeless Fire Pit
Smokeless Burn Technology - Made to elevate your backyard experience, the X Series uses our superior airflow technology to give you all the ability to gather around the fire without the smell and smoke.
Built Tough In The USA - We build our fire pits In Lancaster PA, out of heavy-gauge steel that is designed to last a lifetime.
Grilling & Cooking Compatible - Turn your fire pit into a live-fire cooking beast by adding our Outpost Grill or SearPlate Griddle to your grilling and entertaining arsenal.
What are the basic characteristics of a Zentro Smokeless Fire Pit?
Made from 1-piece 304 stainless steel
Available in 24, 28, and 32" diameters
It weighs 100lbs
Built-in America
Lifetime warranty
6 Reasons to Choose the Zentro Smokeless Fire pit
Heavy smoke is one of the main reasons for concern when making a fire at home. This is because, it reduces discomfort and it can even deter people from lighting up a fire in the fire pit to sit back and relax in the evening.
Zentro Smokeless Fire Pit is a solution that's easy to integrate into standard DIY masonry or brick fire pits.
You need a flat surface to build a brick fire pit for the Zentro insert. While some people use the Zentro fire pit without an existing masonry fire pit, this isn't stable and safe. However, once inserted in an existing masonry fire pit, it comes with the following benefits.
My article on a DIY smokeless fire pit covers the steps of setting up any smokeless fire pit in detail.
1. It fits existing masonry fire pits
Masonry fire pits can be built anywhere in the backyard on flat ground at a safe distance from the house, garage, or patio.
These fire pits need to be built first before purchasing the Zentro Stainless Steel Smokeless Fire Pit.
Bricks are used as alternative building materials for fire pits. The role of bricks is to create a safe outer layer between the user and the hot steel insert.
2. Almost smokeless fire
Zentro's Fire Pit Insert's user manual notes it becomes smokeless once it gets hot. Users note this can take up to 15 minutes. At this time, the fire pit insert burns with smoke.
This is why planning the fire needs to be planned a few minutes. The draft that feeds the flame eventually makes the flame more intense and heats the steel insert so that all excess smoke can be burnt for smokeless fire.
3. Minimalist design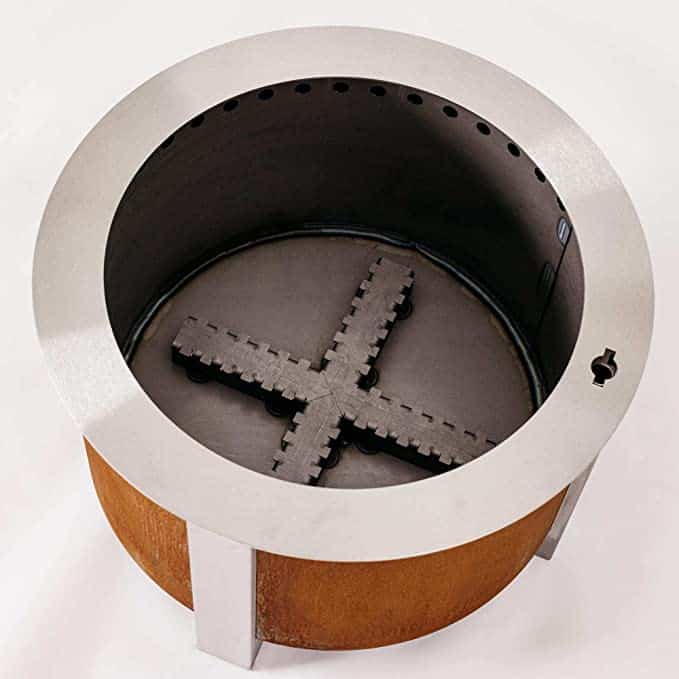 The minimalist design of the stainless steel smokeless fire pit recommends it for new and old homes. It has a modern design without any moving parts and it requires no assembly.
The X Airflow System lies below the surface. This is a type of system is what creates the draft needed for a smokeless fire. It's practically a double wall with perforations at the bottom and on top which feeds extra air to the burning flame to eliminate smoke.
4. Lifetime warranty
Lifetime warranty backs up the durable Zentro Stainless Steel Smokeless Fire Pit. This allows users to rest assured their product is of high quality.
This is a type of policy not offered by many Zentro fire pit insert alternatives. For example, the steel-made Sunnydaze Fire Pit Ring only comes with a 1-year warranty. While more affordable than the Zentro fire pit insert, Sunnydaze is the type of fire pit made from multiple pieces and not with a 1-piece design.
5. Good selection of accessories
Zentro Stainless Steel Smokeless Fire Pit is also superior to its rivals through the choice of accessories. While these accessories aren't necessary, they can be used to expand the functionality of the fire pit inserts for grilling or heating hot brews.
Stainless steel spark screens are compatible with the Zentro's fire pit insert. These spark screens are ideal for large flames or for fire pits that need to burn with controlled flame and spark-free flames. This is often the case with very dry logs which tend to burn fast creating many sparks.
Large Stainless Steel Spark Screen
Intricately woven mesh made of polished Stainless Steel. Stainless steel is weather resistant for added longevity. Prevents sparks and embers from escaping
Please measure your fire pit to confirm a 30-31 inch screen will fit securely
Spark Screen Lifter included
Ash shovels are compatible with the fire pit insert. Breeo makes these ash shovels which represent the alternative to remove the steel insert from the fire pit every time ash needs to be cleared.
Fire Beauty Fireplace Shovel
A Dimensions of the fireplace shovel: 15in. L x 5in. W x 2in. H
Weather resistant for indoor or outdoor use
The surface painting treatment effectively prevents rust and extend the firewood rolling cart service life
Outpost grill accessories are recommended for those who love grilled food. Charcoal and wood flames are ideal for tasty grilled meats or grilled vegetables. The accessory is available through Breeo.
Breeo Outpost Grill
Included - Outpost Grill, Anchorpoint system, and carrying bag for maximum portability.
Breeo X Series Accessory - The Outpost locks in quickly and easily to all Breeo X Series fire pits.
Adjustabilty - Utilize full heat control with the Outpost System's 360° rotation and adjustable height.
Kettle hooks are the latest accessory to be available for the Zentro fire pit insert. It's a small accessory that works as a hook and that attaches to the outpost grill for hot drinks such as tea or mulled wine.
6. A choice of 3 sizes
The size of the fire pit is as important as its smokeless flame. Zentro's fire pit insert comes in 3 sizes as follows.
24" (at 104lbs) – the smallest option, suitable for a basic fire pit
28" (at 110lbs) – mid-size recommended for families
32" (at 120lbs) – large-size fire pit insert for families and grilling
Blue Sky Smokeless Fire Pit – an alternative to 'Zentro Stainless Smokeless Fire Pit'
Blue Sky Smokeless Fire Pit
EFFICIENT DESIGN - The Blue Sky line brings you an innovatively designed fire pit with the ability to burn with little smoke, sparks, ash, or odors
HIGH HEAT - This fire pit is made to generate a significant amount of heat for your next backyard campfire
READY TO USE - With limited assembly needed, and quick ability to carry and store, Blue Sky brings you a ready to use fire pit
This fire pit is one of the most affordable smokeless fire pits you can get instead of Zentro's fire pit. Blue Sky uses similar steel construction which supports high heat output with a smokeless fire.
Similar 24" opening
Blue Sky's smokeless fire pit also has a 24" opening. This is recommended for those who want a basic fire pit for home use or camping.
The smallest Zentro is the same size as the Blue Sky fire pit. However, Blue Sky makes a lighter product.
Lighter at 54lbs
Blue Sky fire pit is considerably lighter. This makes it ideal for alternative use such as at the beach, in the park, or anywhere else apart from home use.
A lighter construction also recommends the Blue Sky fire pit for camping. Users who prefer to have a lightweight fire pit that can be transported easily might be more interested in the Blue Sky fire pit.
Smokeless fire with wood and pellets
While lighter, the Blue Sky fire pit is still known for its almost entirely smokeless fire. This type of fire pit is recommended for people interested in having a great fire without smelling of smoke.
Its extra air intake at the bottom coupled with the double-wall construction makes the steel fire pit truly smokeless.
Affordability
Blue Sky is known to create affordable products. People shopping for a smokeless fire pit who don't want to spend a large amount of money at once might be interested in the Blue Sky fire pit.
A few reasons in favor of Zentro's smokeless fire pit include the capacity to pair it with a large number of accessories. Zentro is one of the manufacturers that offer accessories and extensions which can turn a fire pit into a makeshift barbecue station.
Summary
The Zentro Smokeless Fire Pit Insert is a pre-made solution for DIY fire pits with a diameter between 24 and 32" inches, mostly found at home.
These types of fire pits add aesthetic value to a home as well as the option for a relaxing space to hang out.
One of the main problems Zentro fire pit insert solves is the space to build a fire in even with a masonry fire pit. Most importantly, it eliminates the smoke of a regular fire pit which makes it as efficient as possible for users who want to sit back and relax while watching a fire.
To learn the step-by-step process of building the Zentro Smokeless Fire Pit, check out this video.
While only a fire pit inserts in essence, it can also be combined with Breeo fire pit accessories to be turned into a basic grill or a station that prepares hot drinks. Those only wishing to build a fire pit for aesthetic benefits in the backyard can also consider it with the spark screen for added visual impact and extra safety.
Andrea is passionate about going on adventures and enjoys spending quality time with her loved ones, whether it's hiking through the mountains or camping by the lake.