Are you thinking of camping with your family to spend your vacations? You'll need a gas stove to make your meals during the journey. But will you have sufficient gas to run your camping stove on a voyage?
I had a bad experience using a camping stove when I ran out of gas and couldn't find the gas around. Most people make mistakes while choosing the fuel type for their camping stove.
In this article, I am going to discuss different types of fuels available for camping and the pros/cons of each fuel type so that you don't make the same mistakes I made when camping with my family.
It all depends on the type of camping stove you have and if your stove supports multi-fuels then it is a great blessing to get affordable fuel options with easy availability.
How to choose the best gas for a camping stove?
You can find plenty of fuel types like white gas, butane, gasoline, propane, or kerosene. But choosing the best gas for a camping stove needs some experience.
You have to pick the gas that gives you the best value, is easily accessible, and can be stored because each gas has its advantages and disadvantages.
Especially when you're camping in a place where you can't find any other means of fuel for your camping stove.
Whenever you plan for camping, make sure you pick the fuel that is easily available and you need to have at least two fuel sources when you want to spend a week or two out of your home.
5 Types of fuel for camping stoves
You need to have a camping stove that can run on multiple fuel types so that you enjoy nature while camping without worrying about the consumption of fuel.
Here are the best fuels for camp stoves that you can consider for camping. You should know about them before you pick any of them.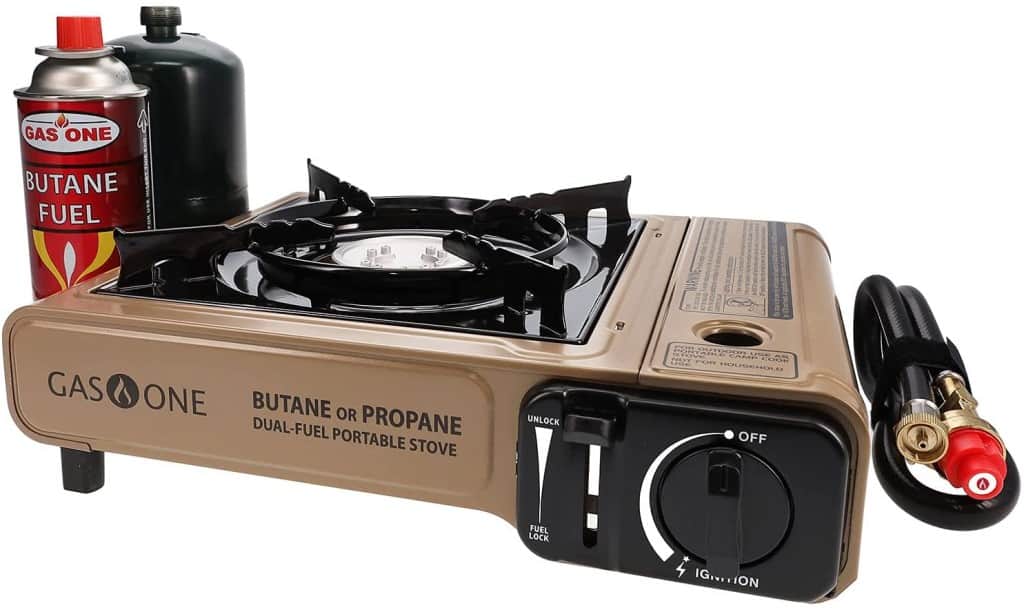 1. Gasoline
We mostly use gasoline as fuel for camping stoves. It is widely available at most gas stations and camping shops, you will never face any problem finding gasoline on a go.
Wherever you go camping, you don't need to take gasoline from home as it is easily available all around.
Gasoline's best feature is its easy storage in a cylinder and high boiling power compared to other forms of fuel. However, gasoline has low consumption and if you constantly use this fuel for cooking food, you will run out of gasoline on long trips.
This fuel gives you better control over temperature and you can prepare all types of food on this fuel. We recommend this fuel for snowier places where other fuels are unable to deliver the required performance.
Most camping stoves are built to use gasoline and work best on this type of fuel. It is cheap, high-powered, and allows travelers to cook their food on this fuel conveniently. However, it is difficult to check the consumption of gasoline in the canisters and you may end up with fuel at any time.
2. Propane
Propane is commonly available fuel on all gas stations and camping stores. It is sold in a 30 lbs cylinder as a standard size and you can get even more quantity of it on demand.
Before you rely on this fuel, you must know that you have the option of refilling your empty cylinder at a cheaper rate or getting a new one at a higher price.
The best thing about propane is that it has the highest pressure vapor and the boiling point is -42 degrees celsius. It is reliable to all weather and gives the best performance when Butane and Isobutane are mixed in Propane.
The only drawback of using propane is its availability during the night or at the time of emergency. You can only get this fuel in the daytime when the stores are open.
3. White Gas
White gas is also known by a different name i.e. Coleman fuel. It is more or less like gasoline but environment friendly. It leaves no odor and gives you a clean burn without affecting the taste of your food.
This form of fuel is safe to use and store while transporting when compared with different fuels. The white gas is highly flammable and can be used to cook any type of food.
This is an inexpensive fuel and can be carried in containers to meet up your needs for the entire trip. White gas is widely available on gas stations as well as on sporting stores.
It is considered the best gas for camping stoves. The is highly recommended fuel for its efficiency and price to go with you for camping.
The white gas only comes in a single form, so you don't need to look around for different brands and just buy the white gas canister from any camping shop across the country.
Since this fuel type is available in liquid form, it is easy to ignite with a good altitude of boiling point. The only downside of this gas is heavier and expensive than other fuel types.
4. Alcohol
This is another fuel option for campers who look for sustainable fuel for camping on their long voyage. Although it is not as widely available as other liquid fuel types, most hardware and camping stores provide this fuel at a cheaper price.
Alcohol camping stoves are easy to use, lightweight, and the preferred choice of travelers due to their easy storage. Since there are so many types of alcohol fuels available in the market, you can get alcohol for camping easily.
Since alcohol is not a strong energy agent and takes more time and consumption for preparing food, it is cheaper and widely available. You will comfortably find alcohol in departmental and camping stores.
Alcohol carries less energy if we compare it with Propane or Butane and consumes at a faster rate, so you will need to carry a lot of alcohol to cook food while camping.
Moreover, this fuel is more vulnerable to wind, and cold temperature due to its low pressure. So, it is suitable only for areas with warm temperatures.
This fuel is commonly available and cheaper than costly fuel alternatives that are available on the market.
5. Butane
It is one of the cheaper alternatives to cook your food when camping. It is most suitable for summer camping and has a boiling point of -1 degree centigrade.
This form of fuel is more affordable than isobutane and propane. However, we do not recommend this fuel for camping in snowier and cold temperatures.
Butane has low-pressure vapor and is lightweight to carry with you anywhere on camping. This fuel comes in small canisters which may not be sufficient for long trips and to cater the food for the entire family.
It is mixed with Propane to have good results and to raise the pressure of this fuel for cooking and other uses. The only drawback of butane fuel is that it is disposable and can't be reused. Butane is a little hard to find and its availability is not common like other fuels.
Many gas stations maintain this fuel, but the use of different cartridges for different stoves makes it less profitable for the store owners.
Alternative Fuel Options
Besides, there are some other alternatives to petroleum and gas fuels i.e. fuel tablets that come in solid form. But these types of fuel are less popular due to their low output and performance.
They produce a weird smell and create great heat at the bottom of the stoves. These fuels are only available in camping stores and you can't rely on these fuel types for long trips.
Regardless of whether you utilize a particular wood stove or an open fire, you need to ensure having the option to discover dry, dead wood in the surrounding.
You should be cautious lighting open-air fires in dry climates or when setting up camp in delicate living spaces. It's disallowed in certain spaces for this very explanation. In any case, nothing causes us to feel more like our base precursors than a decent open-air fire!
Conclusion
There are many types of fuel available to use for your camping stove. You need to check whether your camping stove works with a certain fuel type or not. Focus on the availability and pressure of the gas when you are considering multiple gas types for camping. We also provide tips on cooking while camping without fire in a separate article.
Besides, there are more factors you need to ponder upon while choosing a fuel like safety, and convenience most importantly. You can take everything into consideration before buying the best gas for a camping stove to have a wonderful camping trip this vacation.
We hope that we have covered a lot of information to let you decide which gas is the best for camping stoves so that you can make a decision quickly without getting into hesitation.