If you are a nature buff living in or around Queensland, then this guide is a great resource for some of the best one-day hikes in Queensland. Hiking is after all a great cardio exercise and helps one connect with nature. Queensland is a scenic treat with a sunny temperature almost all year round – suitable for hiking during all seasons. It comes with dense rainforests, breathtaking fauna, and magnificent beaches.
This guide will also touch on some of the nicest waterfall hikes near Brisbane. You get the added advantage of soaking in the scenery and be able to relish the adventurer within. Queensland is a collection of some of the most beautiful sceneries, trails, picnic spots, and waterfalls. This article mentions 9 of these famous trails that you can visit for a one-day trip if you are visiting or in need of a mini-vacation in Queensland. And if you are planning to include camping in your trip, you may want to check our article on tips for selecting a safe campsite.
Best One-Day Hikes in Queensland
1. Brisbane Valley Rail Trail
One of the longest rail-trails in Australia, the Brisbane Valley Trail covers a distance of 161 km stretching from Wulkuraka to Yarraman. The trail has a wide range of nature's creations including rural landscapes, historic landmarks, and creeks. Hikers of any fitness type can cover this trail and it includes stops where you can sit, take a break, and enjoy the multitude of sceneries. The trail is owned and managed by the Queensland Government Department of Transport and Main Roads.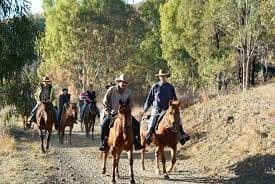 The trail is accessible for mountain bikers, dog walkers, horse riders, and on-foot hikers. Since it also has Somerset's towns, hikers can take breaks to unwind in the towns as well if they get tired. The rail has a fascinating history. In the 1880's it was built to transport milk, beef, and timber supplies for farmers in the towns located around the railway line.
The rail-trail is divided into the following sections:
Wulkuraka – Fernvale: 23 kilometres.
Fernvale – Lowood: 8 kilometres.
Lowood – Coominya: 12 kilometres.
Coominya – Esk: 24 kilometres.
Esk – Toogoolawah: 19 kilometers.
Toogoolawah – Harlin: 14 kilometers.
Harlin – Moore: 13 kilometers.
Moore – Linville: 7 kilometers.
Linville – Bernarkin: 17k kilometers.
Bernarkin – Blackbutt: 5 kilometers.
Blackbutt – Yarraman: 19kilometres.
2. Glasshouse Mountains
The Yul-yan-man track found in the Glasshouse Mountains, ranging from 2.8 to 9 km, is an easy hiking trail. It is children-friendly with some relatively shorter walks and is thus perfect for people of all ages. It covers a landscape consisting of loose gravel, rock climbing, pine plantations, eucalypt woodland, high peaks, steep ascents, and several trails. While some hikes in Queensland are not suitable in the rainy season, this one in Brisbane is ideal for all seasons – given the temperate weather all year round.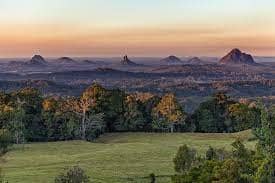 The Yul-yan-man track found in the Glasshouse Mountains, ranging from 2.8 to 9 km, is an easy hiking trail. It is children-friendly with some relatively shorter walks and is thus perfect for people of all ages. It covers a landscape consisting of loose gravel, rock climbing, pine plantations, eucalypt woodland, high peaks, steep ascents, and several trails. While some hikes in Queensland are not suitable in the rainy season, this one in Brisbane is ideal for all seasons – given the temperate weather all year round.
It is also close to the sunshine coast and has many famous peaks such as Mount Beerwah, Tibrogargan, and Beerburrum. Moreover, it consists of challenging trails such as the grade 5 one on the Yul-yan-man track. The word Yul-yan-man itself means "walk slowly", so it calls you to be patient and to take your time on the difficult trail. The rock-climbing patch of 9km takes about 3 to 4 hours. Generally, it is often known for its diverse nature. The trail around the base of Mount Tibrogargan is an easy walk usually covered in about 90 minutes. The surrounding forests of eucalypt and melaleuca are beautiful to savor.
3.Mountain Walsh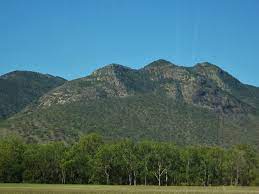 This region has a trail ranging from 600m to 3km and has a tough terrain which makes it better for experienced hikers. It is a grade 4 to 5 rated hike and so beginners should opt for an easier one. Going on dry days is ideal as during the rainy season, the granite becomes slippery, and chances of accidents increase. Because of the difficulty level and unfavorable climate, children should not be taken to this trail. Older, experienced children with prior hiking experience can go.
The trail consists of a variety of landscapes including creeks, rainforests, pines, open forests, eucalypts, cliffs, and rock pools. Its magnificent wildlife comprises treecreepers, owls, wallabies, lace monitors, and peregrine falcons. It is located almost 2 hours drive away from Brisbane. This trail is perfect for a weekend hike for nature lovers. Make sure you embark on the hike with all the preparations because the track is not well paved. The Mountain includes swimming at certain points so make sure you have your swimming gear in your backpack or else you will regret it. The Waterfall Creek Section, sometimes also known as the Utopia walk is ideal for this purpose. The trail can take about 2 to 5 hours depending on your navigational skills.
4. Thorsborne Trail
The Thorsborne trail features a dramatic hike with landscapes that are almost from the fantasy genre movies. With bubbly clouds, dispersed bush camps, and rugged summits. The trail is 32 km long on the eastern end of the Hinchinbrook Island National Park. The Island is located within the Great Barrier Reef World Heritage Area and has high-altitude mountains with little vegetation. It consists of eucalypt, mangrove, and rainforests. The trail is not a solid paved track and some areas can become difficult.
Due to the rough terrain, the trail is better suited to more fit and experienced hikers. It comes with camping areas, which require permits. You need to book in advance for both the trail and camping. Booking often gets fully booked during the holiday and peak seasons. They grant permits for a total of 40 people or less, with a group size not exceeding six at a time. Obtaining a copy of the trail guide is a must especially if you have not hiked here before. The best time of the year to come here is in November.
5. Box Forest Circuit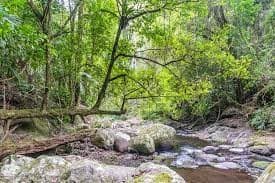 An hour's drive away from the Gold Coast is an incredible 160 km hiking trail in the Box Forest Circuit. It consists of brush box forests, waterfalls, box orchids, and subtropical forests. It is a grade 4 rated trek that has a length of 10.9k circuit and takes about 4-5 hours to trek. Also, it is perfect for springtime as you get to enjoy box orchids in full bloom at that time of the year. Winter is a bit too cold as temperatures drop to 0 degrees Celsius. The area becomes about 5 degrees colder than Brisbane
The Lamington National Park found here has breathtaking scenery and lush wildlife. If you are lucky, you'll get to see Albert's lyrebird on this trail – listed under areas of UNESCO World Heritage. The trails are plentiful here, but the Box Forest Circuit stands out the most. The gorgeous waterfalls and breathtaking views are phenomenal. It is perfect for water lovers as well, featuring some swimmable waterholes at Picnic Rock and Elabana Falls. The crayfish are often found in these water bodies. If you are feeling more adventurous you can extend your hike and carry on to the Border Track which is 21.4 km long and takes about 7 hours to complete one way. However, you will have to arrange for transport for it.
6. Windin Falls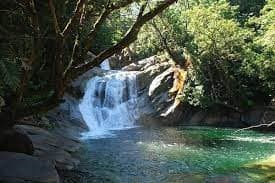 This moderately rated hike is a series of waterfalls, tropical rainforests, cassowaries, and valley views. The presence of butterflies everywhere, along with lush birdlife in the trees, accentuates its beauty. It is an 11.5 km trek (of about 3-4 hours), including the return, but since the path can be muddy it might take longer than expected. It's beautiful during the rainy season when rivers and beaches are shut down. The waterfall found here can be a great alternative for a dip. The trek gives off Jurassic Park feels because of the adventurous Atherton Tablelands and Dividing Range. The Old Cairns trek of about 4 km is an hour long. The route can be made shorter, but locals usually suggest a longer one that leads to a waterfall.
It is, however, comparatively an easier trek and is recommended for older people and children. The views from the top of the waterfall are too good to be true. The natural pools and pretty birds on the way make the whole scene as if from a movie. The trek can be made more interesting by enjoying a picnic lunch to soak in the views and nature. A lot of people swim here too, so come with swimming gear if you want to go for a dip. The water is a bit cold here so keep that in mind. On the whole, it is one of the most wonderful waterfall hikes near Brisbane.
7. Warrie Circuit – Springbrook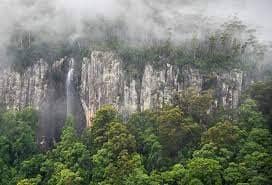 This is a trek of a collection of waterfalls, steep inclines, streams, and overall a paved trail. It is a moderate level trek of 4.5 hours long and 16 to 17 km in length. Plus, it is a great place to trek all year round. It starts from a great picnic spot called the Tallanbana Picnic Area. The Warrie Circuit includes the very beautiful Rainbow Falls waterfall and overlooks the valley beyond the rainforest canopy. It is better to not go during the rainy season as the muddy terrain can lead to accidents. In severe weather conditions – cyclones and storms – the trees can be uprooted as well. You can also see from below the Groomoolahra Falls, which is a breathtaking view for anyone.
The concrete bridge, however, can be dangerous to cross as it does not have any handrails and can cause people to slip. Due to this, it is better to take grownup children as opposed to younger ones. On the whole, the trail is very well-maintained.
8. North Stradbroke Island – Minjerribah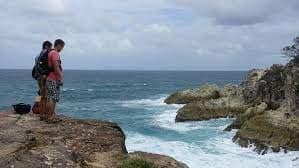 The North Stradbroke Island has a 2.2 km long Mt. Vane Walking track, made by the Quandamooka people – original owners of the island. The trek covers a 360-degree view of both Moreton Bay and Quandamooka county. Manta Bommie is a great site here which also happens to be a great place for swimming with turtles and reef sharks. It is an all-year-round location to visit. The Goomp Trail is also a wonderful trail walk with the locals of the area. They teach you interesting methods of hunting from olden times. The Brown Lake is further inland that is home to tea trees. The place is soothing on the skin and the views here are gorgeous.
If you want to go further on foot then Stradbroke Island, AKA Straddie, is a great place to explore. The track is a combination of Kaboora on Blue Lake and Neembeeba on the Blue Lake Lookout. In total these two are 10 km in length. Between these trails, the view from the high peak of Straddie's highest peak is a must. The trek down to Blue Lake (Kaboora) on the return is also one of the most peaceful places to be at. There is the North Gorge Walk on Straddie which is a 1.5 km walk and is one of the best one-day hikes in Queensland.
9. Forts Walk – Magnetic Island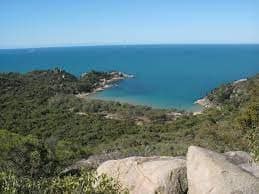 This hike is four hours long with a 4 km length and has an easy to moderate rating. It is populated with some hills but is overall easy to navigate. This is why kids often come here too. It also happens to be amongst the more popular trails on the island. It is a collection of coastal lookouts and eucalypt forests. The wildlife consists of koalas, which are often seen snoring in the tree located above the track.
It has a rich history and comes with some ruins from the World War 2 era. From 1943 – 1945 the Australia Coast Artillery Units inhabited and operated the Forts Complex. It starts from the Horseshoe Bay Road has a steep ascent and leads to the Forts Complex from the WW2 period. The 360 degree vies that are seen from the fortifications are considered to be worth more than the walk. The Palm Island Group and Bowling Green Bay National should be visited as they are a sight for sore eyes. It is often amongst the most visited best one-day hikes in Queensland.
Andrea is passionate about going on adventures and enjoys spending quality time with her loved ones, whether it's hiking through the mountains or camping by the lake.