Hiking is one of the healthiest activities that you can execute. The thrill of enjoying the outdoors and moving through different terrains can cause an adrenaline rush in many. However, if you want to have some alone time to reconnect to yourself and nature, one thing that might come to your mind is whether you should hike alone. Especially if you are a woman, it might worry you a bit, and quite frankly, it's natural because you never know what you might come across while you are out there. So, we have a list of 7 tips for hiking alone as a woman.
Whether you are an experienced hiker with years of practice, the tips here will help you ensure your safety while you head out on a hiking journey all on your own. Let's be honest, all outdoor activities are fun when friends surround you, but there are times when you need to do something entirely on your own. It might be because you want to reconnect to yourself while spending a trip outdoors or to overcome insecurity and the fear of surviving alone; hiking individually isn't a bad idea at all.
Can you hike alone with ultimate safety?
Traveling alone on a hiking trip might seem hectic and challenging, but that is not the entire picture. If you are someone who has experience in the field, chances are you will find it no more demanding than a regular hiking trip. However, if it is your first time, you need to be well prepared to ensure you don't face a situation that you can't handle.
Although, most of the people you will come across will argue that hiking alone is not safe regardless of what you think. Nevertheless, numerous other women hikers find the trip peaceful, empowering, and a way of reconnecting with oneself.
If you have decided to embark on a trip all by yourself, you shouldn't worry much. Instead, you should perform the required research and prepare for any situation that you might have to face while you are on the trip. The biggest threat that anyone might think of is the unpredictability of nature.
Factors to keep in mind when hiking alone
Carrying a satellite phone: Satellite phones aren't the most common things as they could cost a fortune, but they can come in handy in such situations. A satellite phone would allow you to stay in contact with friends and family constantly. You can also share your location to ensure you are safe all the time. They are an investment, but hey, our lives are worth it.
Understanding the animals around: Another thing that frightens hikers is the animals around. In such situations, your experience won't matter as such an encounter could be fatal. Therefore, it's essential to understand the animal situation when you are going on a hiking trip at any particular spot. You can look for any animals that are found in the particular area and prepare for it accordingly. For instance, if you are hiking alone in bear country, you can carry bear cans and sprays while also ensuring that you can use them properly. For a detailed reference, you may want to check this article on tips for handling bear encounters.
Sticking to the marked trails: If you want to ensure that you don't get lost, sticking to the marked trails if you are hiking inside national marks is an intelligent choice. If you are hiking alone, it's better to choose a national park rather than opt for an unknown area with no trails, and it's easier to get lost.
Carry the right luggage: Overpacking is one of the most common problems among hikers. It is one of the essential tips for hiking alone as a woman. If you overpack, you are more likely to get tired midway, and the trip won't be anywhere near as enjoyable. Therefore, if you are packing for a night or two, make sure you carry just enough stuff for the way.
How do you start camping/hiking alone?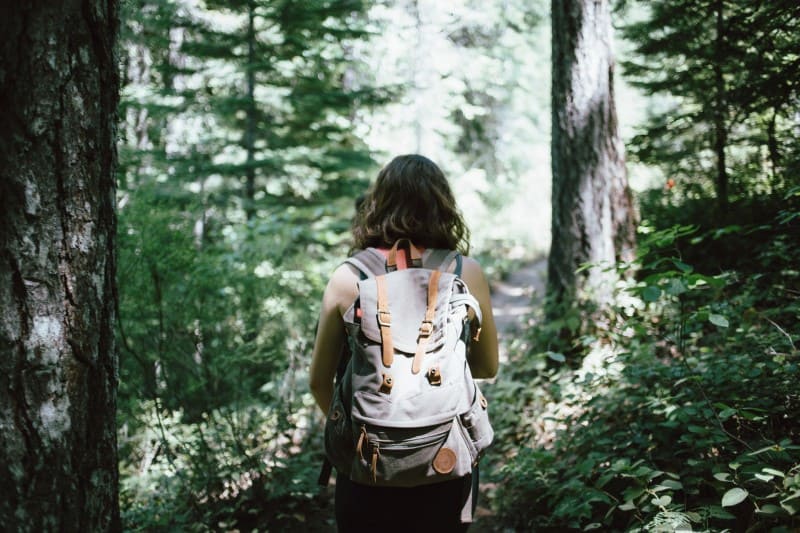 1. Starting Small
The best advice that we can give you when making any significant step in your life is always to start small. So, the best way to do this is to go on hiking trips that aren't very long. A couple of hours-long trips are good enough for a start, and you can begin with friends and family.
There are various advantages of starting small. The most important one is that it will allow you to be familiar with the routes you will take. Starting small reduces the chances of getting lost and increases confidence in finding the way back.
The biggest problem with going on a hiking trip alone to someplace you have never seen before is that you are at an increased risk of getting lost. You might never know what is waiting for you in the woods. It could be an animal, a spider, or even a ghost. Well, you never know.
Going on hiking trips with companions allows them to build the stamina for survival for novice hikers'. High-altitude travel requires more stamina, which can be challenging for first-time travelers. Thus, knowledge of the environment before starting any journey is a necessity.
2. Choosing the right destination
The next thing is to choose the right destination. For someone who barely hikes, if she makes up her mind for hiking alone in bear country, she is just placing herself in a dangerous situation. Thus, the most important thing when choosing the destination for hiking is to select a route as per your expertise. And if you choose to hike in a place where you may encounter a bear then we recommend you read "everything you need to know about camping in a bear country".
The best choice here would be to choose popular trails that are well marked. There are numerous benefits, as they are a lot easier to handle, and the threat is also comparatively lower. Instead of your head out to a hiking trip in the backcountry alone and you have no idea about the place, well then if you face something that haunts you later.
Furthermore, hiking at such unmarked places is also not the best option since you can easily get lost, and it would be pretty tricky for you to find your way back. Thus, the best way to deal with this situation is to make parks or places with properly marked trails. Additionally, if you go to a place where you expect other hikers, it gives you a chance to socialize with them and make new friends. It could well be an incredible experience, meeting new people along the way and making unbreakable friendships all while you are on a hiking trip.
3. Learn before heading out
Whether you are an inexperienced hiker or someone with years of experience, there is always room for improvement and learning. Despite countless hiking trips, some people aren't the best with navigations, while others tend to overpack despite practicing it several times.
The best tip for hiking alone as a woman is to ensure that you learn correctly from someone. Since an unprepared situation can make a world of difference when you are on a hiking trip, you must have all the information before going out. You need to polish various skills, including packing, dealing with minor regular allergies like blisters, choosing the right gear for the journey, cooking, pitching your tent, or using the equipment, you have packed for your safety. Once you have decided on the destination, try and gain insights into the expected conditions. For example, if you had selected camping in Joshua Tree ( a place close to Los Angeles) then you would ideally learn things covered here. Being fully prepared gives you that added comfort and confidence to make that solo trip.
These are all the skills that you need to carry with you on a trip to ensure your safety. The best way to get them is to make a few trips beforehand with anyone who has a lot of experience and can teach you these skills. Since you will be alone, it's imperative to be fully prepared as life out there will not be all sunshine and rainbows. Furthermore, even though you might face the perfect weather conditions or the lowest risk of any animal encounter, ensuring that you are well-prepared keeps your mind stress-free, and you enjoy the trip a lot more than you usually would.
4. Thoroughly understanding the trail conditions
What's the most annoying thing that you can think of when heading out for a hiking trip all on your own? There could be a difference of opinions, but for several hikers, it's the unpredictable weather conditions. Well, can you imagine packing for a nice sunny day just to come across rain when you reach the place?
So before embarking on any journey, make sure you understand the place entirely and the weather conditions you may come across. If you are hiking in another country, the best way to do this is to ask the locals and gather as much information as you possibly can. After gathering some information from the locals, the next stop should be Google, as you should never leave any stones unturned. The gear compatibility is an absolute necessity because imagine heading out to a cold region without proper equipment. You aren't last long, unsurprisingly, so ensure that the gear you carry to the place matches the weather and other conditions around the block.
Some of the ways that you can gather information are as follows:-
Join and search from Facebook groups. You can also connect with various people who have recently made a trip to that area for more ground knowledge.
Searching the local official tourism sites are also a great way to look them up
Read blogs online about the place you have selected for hiking
Check the weather patterns for the past few days and ensure you have the right equipment with you at the moment
5. The right preparations and equipment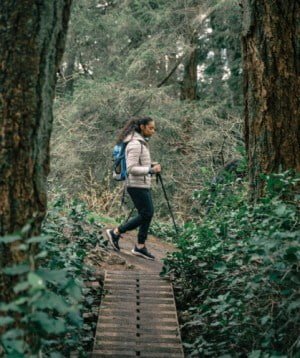 Perhaps this is a no-brainer in tips for hiking alone as a woman because we all know that we have to prepare before the journey, right properly? Well wrong. Some people often overlook the importance of this and don't prepare in detail. We advise you to carry enough food and water for the trip. Apart from that, it would be best if you carried a waterproof tent that is large enough for you and some essential medicines and bandages along the way won't harm either. Furthermore, if it's likely to rain, carrying an umbrella won't be a big Hassel even if it doesn't end up showering; you can easily take it back home for another day, maybe.
6. Knowing and appreciating your limits
It's good for anyone to challenge themselves reasonably every once in a while. However, please don't go off the mark; be utterly irrational about it. Hiking on technical trails alone can be troublesome, and you should always avoid pursuing such a journey. Even if you are the bravest person globally, it doesn't matter; you could be Hercules and still get yourself into trouble. So, to ensure safety, the best way is to hike on easy trails without many complications. It would be a relief for you and your loved ones who wouldn't like to hear a message over the satellite phone that you need their help for making an unreasonable decision. So always avoid hiking when the conditions aren't in your favor, i.e., it's too foggy, or there are heavy winds, or your hiking trail is a bit too difficult to navigate.
7. Have the right mentality
Finally, we would like to give you the last tip to have the right mentality before starting the trip. Always remember that brainpower is the main power. If you think too bad about the journey, the chances are that you would encounter something unfavorable, and your attitude about it will be a lot worse than it regularly is, which could also impact the pleasure of the journey.
So before going on a solo hiking trip, remember that this is something that you have always wanted to do, and it's to make yourself happy.
---
Hiking alone as a woman may not be for everyone but it surely is a great way to connect with nature and refocus on yourself. It definitely requires a lot of courage to step out of your comfort zone and we hope that these tips help you with your journey.
Andrea is passionate about going on adventures and enjoys spending quality time with her loved ones, whether it's hiking through the mountains or camping by the lake.