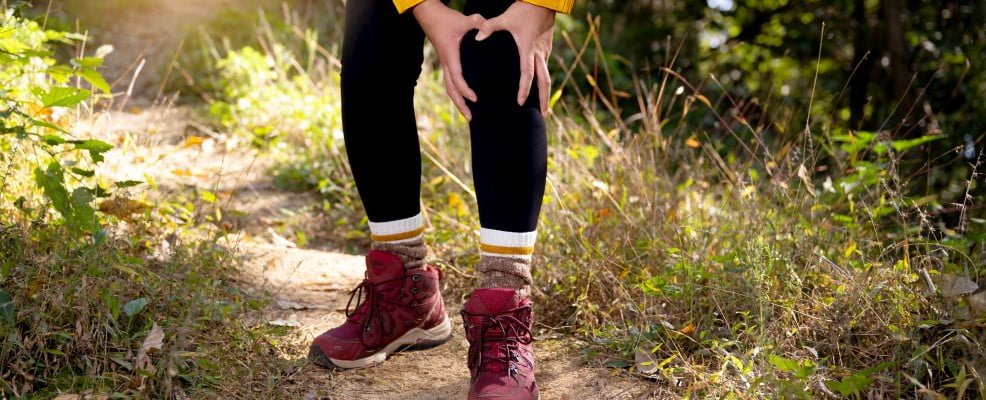 Bad knees are knees that become painful with movement. It can be devastating for a hiker to discover problematic knees as it could spell the end of your hiking days. If as a woman you love hiking but have found you can't enjoy it due to bad knees, there is hope on the horizon. The best women's hiking boots for bad knees might just be the lifeline you need.
Likely causes for painful knees can be a result of past injury, arthritis, runners knee, patella tendonitis, knee bursitis,  or a combination of them all. With the correct hiking boots for bad knees, you can still enjoy many hours exploring the countryside in comfort. If you are looking to purchase, see our buying guide below the rated shoes.
Preview
Best Budget
Luxury Buy
Most Durable
Product
Vionic Women's Drift Tokyo Leisure Sneakers
Gravity Defyer Women's G-Defy Orion Athletic Boots
Salomon's Women's X Ultra 4 Mid GTX
5 Best Women's Hiking Boots for Bad Knees
1. Salomon Women's X Ultra 4 Mid GTX
Saloman Women's X Ultra 4 Mid GTX
Waterproof Hiking Shoes: Conquer uphills and descents with the mid height X Ultra 4 GTX; This waterproof shoe is designed for women with the agility of a trail running shoe and the stability and grip needed for technical hikes
All Terrain Grip: Equipped with a new chassis, this waterproof hiking shoe protects sensitive articulations without compromising movement; The Contagrip MA outsole grabs the terrain, even when it's wet or slippery
Adventure Awaits: Whether you love a local day hike or hitting the trails for a multi-day adventure, Salomon makes innovative hiking and backpacking shoes and boots for men and women to help you go the distance
These are perhaps the best lightweight, but solid hiking boots you will find.
The uppers of the Salomon Women's X Ultra 4 Mid GTX are quality full-grain, water-repellent leather which provides long-lasting wear and durability. The PFC-free mesh and textile lining have Gore-Tex breathability
A gusseted tongue is connected to either side of the upper, preventing debris from entering the boot
The OrthoLite insole is a tight anti-debris mesh that prevents any debris from being trapped between your foot and the footbed. It molds to your foot giving comfort and a cradle-like feel.
The dual-density EVA foam midsole offers excellent shock absorption, cushioning, stability, and motion control.
An ADV-C chassis extends around the sides of the shoe, protecting them from sharp rocks and sticks
The Contagrip MA rubber compound of the outsole provides a good balance between grip and durability as do the Chevron lugs. The reversed tread on the heel helps to assist in braking when you're moving downhill.
The ankle collar prevents the ankle from flexing too far.
These boots have a Quicklace system which adds a convenience aspect to the hiking boots.
Pros:
Super comfortable
Waterproof and breathable
Lightweight
Cons:
The next pair of hiking boots are more walking shoes than hiking boots, but many people wear them for hiking short distances. They have such fantastic reviews for relieving knee, foot, hip, and back pain, that they need a special mention.
2. Gravity Defyer Women's G-Defy Orion Athletic Boots
Gravity Defyer Women's G-Defy Orion Athletic Boots
VersoShock Technology- Patented Spring System Absorbs Shock From the Ground up Converting it into Renewed Positive Energy
STROBEL CONSTRUCTION light and extremely comfortable giving flexibility and breathability
REMOVABLE INSOLES to accommodate custom orthotic support
These orthopedic hiking boots are highly recommended by podiatrists and orthopedic personnel.
The Gravity Defyer Women's G-Defy Orion Athletic Boots have been specially designed to relieve the pain and discomfort associated with bad painful knees, allowing their wearers to be able to be active and on their feet for long periods of time.
These shoes are highly recommended for Plantar Fasciitis.
The uppers are rich and soft nubuck calf leather, making them very durable – the lace-up system is traditional.
The footbed is cushioned polyurethane and is easily removable for cleaning, or if you prefer to replace it with your personal custom orthotic insert.
The Strobel EVA construction of the midsole makes these boots very comfortable and gives flexibility and breathability.
Verso Shock Technology is a patented spring system that converts the shock from the ground into renewed positive energy. This has been proved to ease and relieve the pain.
The padded collar and tongue add cushioned comfort and support, as does the naturally contoured heel cup. The heel cup helps prevent sore knees and heel spurs.
The very durable outsoles provide a good grip on all outdoor surfaces.
All in all, these special, durable hiking boots for women give life-changing pain-free stability, support, and cushioning.
Pros:
Breathability with EVA construction
Cushioned comfort with padded collar and tongue
Very durable
Cons:
3. Lowa Women's Renegade GTX Mid-Hiking Boot
This is a mid-height all-terrain women's hiking boot designed to help ease and even alleviate the pain caused by bad knees.
The Lowa Women's Renegade GTX Mid Hiking Boots have nubuck leather uppers.
The Gore-Tex waterproof and breathable lining is of soft glove leather with perforations for air circulation.
The Monowrap midsole technology is a frame made of polyurethane. It extends up the sides of the midsole providing shock absorption and lateral stability.
The climate-control footbed keeps the feet dry and comfortable,
The padded tongue and collar offer additional comfort and support.
The shock absorbent Vibram sole with its thick rubber lugs ensures that these hiking boots have good traction and grip
They have a full-length nylon shank which gives stability
These hiking boots are steeply-priced, but when you think of the solid ankle support and superior stability they give, you will realize they are well worth the price.
The speed lacing ensures the boot closure is quick and convenient and provides a tight and secure fit.
Pros:
Quick speed lacing
Shock absorbent Vibram sole
Waterproof and breathable
Cons:
Can be considered a bit heavy
4. Vionic Drift Tokyo Supportive Hiking Boots/Shoes
Vionic Drift Tokyo Supportive Hiking Boots
COMFORTABLE SNEAKERS FOR WOMEN : These attractive workout sneakers for women by Vionic are the perfect sneakers with arch support for all-day wear. Fitted with an ergonomically-designed rubber sole that makes walking and other activities easy and comfortable.
MESH AND MAN-MADE UPPERS: Each pair of women's sneakers is made using soft yet durable materials and a flexible, removable, textile-covered EVA orthotic insole.
YOUR NEW FAVORITE SNEAKERS: Flexible and stable, this shoe is designed to keep you on the move, step by step. 1st Ray Technology promotes better forefoot mobility and gait efficiency.
These Vionic Drift Tokyo Supportive Hiking Boots have knit-mesh uppers which make them lightweight and breathable.
Each pair of hiking boots has a flexible and removable EVA orthotic insole.
These boots have a footbed designed by a podiatrist and deliver a unique Three-Zone Comfort with an Orthotic Insole Arch Support. This provides perfect postural alignment, a better gait, and therefore less foot, knee, and back pain.
The Three Zone Comfort System consists of a deep heel cup, forefoot cushioning, and midsole arch support
They have an ergonomically designed sturdy rubber sole with easy-toggle bungee laces.
These Women's Hiking Boots for bad knees are lightweight, flexible, stable, versatile, supportive, and comfortable.
Pros:
Superb cushioning
Excellent arch support
Lightweight
Cons:
5. Zamberlan Women's 996 VIOZ GT
Sale
These are high-quality Italian-made boots. Although the Zamberlan Women's 996 VIOZ GT is very expensive you feel you get what you pay for.
The pure leather ensures that the boot offers protection, durability, and awesome good looks
If you can afford them, these boots come highly recommended for bad knees.
Gore-Tex Performance membranes make sure your boots are waterproof but still have breathability.
The exclusive rubber sole is built by Vibram with deep lugs to give a good grip, traction, and superior downhill braking even in wet conditions
These 3D soles can be re-soled.
The Microtex collar lining aids in controlling any excess moisture above the ankle.
The Zamberlan Flex System allows the boot to comfortably bend forward without affecting the lateral support.
These hiking boots for women with bad knees are perfect in every way.
They have good arch support, rigid ankle support, and excellent cushioning, besides all the other standard quality features.
Pros:
Comfortable
Good arch support
Gore-Tex performance
Cons:
Buying Guide Questions and Answers
1. Won't my knee pain get worse if I hike?
If you are wearing the correct shoes, and don't overdo things, it's very possible you will be able to do short hikes comfortably.
2. Are boots true to size?
This depends on many things – it is always best to do your own research. Are you going to be wearing thick socks or thin? Do you have wide feet or narrow ones? Do you have bunions?
3. What do I need to consider when looking for the best women's hiking boots for bad knees?
If your foot leans outward you will need extra cushioning for shock absorption, although too much can increase the impact on your knees. These also apply when looking for hiking shoes for Achilles Tendonitis. If your foot bends inward, you will need stability shoes designed for shock absorption thereby easing the pressure on your knees.
A lower heel-toe drop is better for most types of knee pain, although if you feel your stride is overcompensating because of other pain in your feet, you might need the higher heel-toe drop. Find an upper that is breathable and provides support in all the important areas. Make sure it has a sock-like fit.
Heavy hiking boots can put extra pressure on your knees so make sure you go for a lightweight pair that doesn't add weight to your step.
4. Hiking boots are expensive – how does one care for them?
All your boots will come with Care Instructions pertaining to the materials used and boot style. Some should only be hand-washed with a particular solution; others may go into the washing machine at a low temperature, short cycle, and a third of the amount of detergent you would use for your normal wash.
5. How important is arch support when you have bad knees?
The arch is always very important as this can influence your knee pain dramatically.
6. Is it necessary to break your boots in?
Some people don't, but it is probably a good idea when you have bad knees. You will need to make sure your shoes are as comfortable as they can be before you start any distance walking.
7. Why do the boot descriptions say the insoles are removable?
Some people have orthotic inserts made and molded for their feet, and they prefer to replace them with these.
8. Why do two people with, for instance, the same bad knees, differ in their opinion of the particular boot in question?
Choosing a boot is a very personal thing and personal requirements can differ from person to person. For instance, you might have bad knees, but you may also have bad feet. What you need in a hiking boot will not always be the same as a person with good feet, but bad knees.
Verdict
We may have bad knees, but we may have other problems as well that need addressing before we can make our hiking enjoyable.
The American Podiatric Medical Association is the leading resource for foot health information, and many Vionic shoes and boots have the APMA Seal of Acceptance. It means that shoes like this actually promote foot health.
Have an assessment of your bad knees at an orthopedic clinic or podiatrist, and then with that knowledge in mind, make an educated choice of the correct and the best hiking boots for women with bad knees.
Andrea is passionate about going on adventures and enjoys spending quality time with her loved ones, whether it's hiking through the mountains or camping by the lake.