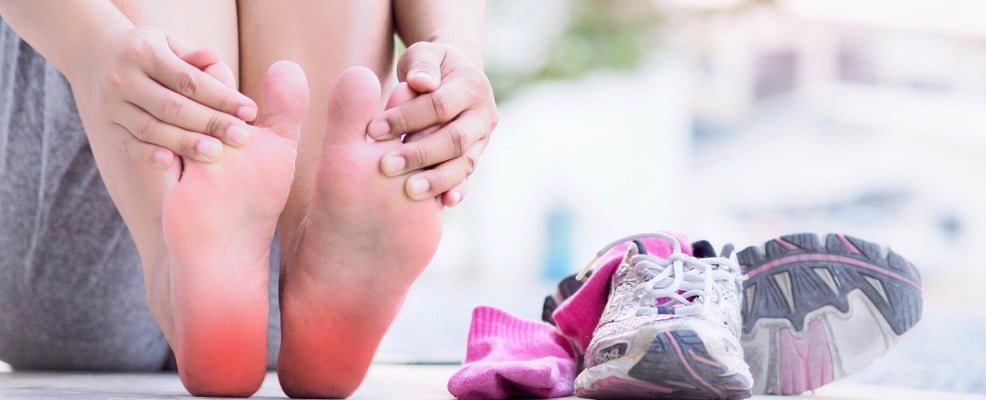 So, what is Plantar Fasciitis? This is inflammation of the thick band of tissue running across the bottom of the foot, connecting the heel bone to the toes. The plantar fascia supports the arch of the foot and cushions the shock that comes from walking. If you're a casual walker or hiker, the best women's hiking boots for plantar fasciitis will become important to you. You can't afford to have any pain directed toward the heel when you've still got 10 miles to go.
Orthotic shoes and inserts can give your arch the support it needs and help with heel pain. It is also essential to replace your hiking or sports shoes before they can no longer offer the support and stability you need. We often think that plantar fasciitis is the end of the road as far as hiking and walking are concerned, but this is not the case if the proper gear is used. It is essential to have properly fitting shoes not just for Planter Fasciitis but also to prevent chafing, provide arch and Achilles Tendonitis support, as well as prevent irritation of the skin.
Here are some of our picks for the best budget, luxury and durable women's hiking boots for Plantar Fasciitis:
Preview
Best Budget
Best Luxury
Best Durable
Product
Timberland Women's White Ledge Mid Ankle Boot
Oboz Women's Sawtooth II Low B-dry
Salomon X Ultra 3 MID Gore-TEX Hiking Boots for Women, Shadow/Castor Gray/Beach Glass, 5
Best Budget
Preview
Product
Timberland Women's White Ledge Mid Ankle Boot
Best Durable
Preview
Product
Salomon X Ultra 3 MID Gore-TEX Hiking Boots for Women, Shadow/Castor Gray/Beach Glass, 5
Seven of the Best Hiking Boots for Women with Plantar Fasciitis
1. Keen Targhee II Mid Hiking Boots
Sale
Keen Targhee II Mid Hiking Boots
WATERPROOF: KEEN.DRY waterproof breathable membrane keeps your feet dry and comfortable all day long by allowing vapor out without letting water in
TRACTION: KEEN ALL-TERRAIN rubber outsole provides high traction grip in muddy environments and on rocky surfaces; Non marking rubber outsoles leaves no trace or imprints when walking indoors
SUPPORT: External Support Shank and mid cut height adds ankle support and balance on uneven surfaces; Contoured heel provides next level stability
These KEEN Targhee II Mid hiking boots are made with 100% waterproof nubuck leather, making them protective against the wet elements of snow and rain.
KEEN DRY is the technology used to provide a waterproof outside layer (membrane) without compromising its breathability. It is then treated with Cleansport Odor Control.
Good features for those suffering from Plantar Fasciitis are the contoured heel cup which cradles the heel and helps support the ankles, and the heel lock lacing. These ensure that there is no heel slippage.
The toe-box is roomy, without allowing too much movement.
The EVA foam shock-absorbing midsole ensures cushioned and supportive comfort.
The ESS shank underneath the arch provides rigid but lightweight stability and support in the midfoot.
The rubber sole and multi-directional lugs provide efficient grip and traction.
Pros:
Contoured heel cup supports the heels
Extra toe protection
Waterproof with Keen Dry
Cons:
Not particularly as durable as some of the other shoes listed below
2. Merrell Women's Siren Traveller 3 Mid Waterproof Hiking Boots
The Merrell Women's Siren Traveller 3 Mid Waterproof hiking boots have a bellow tongue which aids in keeping out debris and water.
These uppers are full-grain leather which gets softer the more you wear them. The leather is waterproofed by a breathable membrane that seals out the wet.
Vibram TC5 is a rubber-compound sole that gives superior grip on all wet and cold surfaces.
The Kinetic Fit Base Footbed insole (removable) provides arch coverage, heel lock, organic odor control and a mesh liner which provides good air circulation.
Merrell air cushion in the heel adds stability and support and absorbs the shock when hiking rough terrain.
Midsoles are EVA foam with areas of even softer foam giving good cushioning, protection and comfort.
Pros:
Air cushion in the heels
Superb arch support
Organic odor control
Cons:
3. Columbia Newton Ridge Plus Women's Hiking Boots
Columbia Newton Ridge Plus Women's Hiking Boots
ADVANCED TECHNOLOGY: Columbia Women's Newton Ridge Plus Waterproof Hiking Boot features our lightweight, durable midsole for long lasting comfort, superior cushioning, and high energy return as well as an advanced traction rubber sole for slip-free movement on rough ground.
HANDY FEATURES: Treacherous days out on the trail are comfortable and worry-free with this boot's waterproof full-grain leather and mesh bootie construction and its durable mesh tongue for breathability.
ADJUSTABLE FEATURES: The Newton Ridge Plus Waterproof Hiking Boot features a lace-up closure for an adjustable, secure fit.
This mid-cut hiking boot is relatively inexpensive but still comfortable, durable and supportive for women who suffer from Plantar Fasciitis.
The uppers of the Columbia Newton Ridge Plus Women's hiking boots are made from leather and suede.
The TECHLITE midsole offers superior extra-light responsive cushioning, high-performance hiking, and enhanced impact absorption. It also reduces the effect of sudden changes in your foot movements and gives stability as it adapts to the conditions of the hike.
Omni-Grip is a rubber compound sole and tread that gives stability and the right grip and traction no matter how rough the terrain.
These hiking books come in many color combinations that are eye-catching, modern and stylish.
Pros:
Excellent arch and ankle support
Superb grip and traction
Lightweight
Cons:
4. Oboz Women's Sawtooth II Low B-dry Hiking Boots
The insole of the Oboz Women's Sawtooth II Low B-dry Hiking Boot is called O FIT insole. It is what Oboz has become known for.
They have specifically molded this insole to match the shape and construction of every pair they make.
This delivers a fit, comfort, and performance that goes unmatched.
The uppers are nubuck leather and an abrasion-resistant textile making them strong to stand up to any rough terrain.
The collar is designed to articulate with your ankle giving snug comfort.
The rubber heel counter at the back of the boot holds your heel in a stable but comfortable position.
The midsole consists of a dual-density EVA that provides good air circulation, cushioning and stability.
A nylon shank in the midsole protects the foot from hard or sharp objects and gives stability on rough terrain. It also prevents the boot from flexing more than it should. The shank also enhances the support between the toe and the heel which is ideal for hikers with Plantar Fasciitis.
The sawtooth outsole, which is supportive and flexible, boots out the mud without losing any of its grip and stability. The lugs on the sides give traction on those bumpy trails and terrain.
B-DRY is Oboz's waterproofing system, which not only allows sweat to escape but also keeps moisture out.
Pros:
Durable
Comfortable
Excellent traction
B-Dry waterproofing
Cons:
5. Timberland Women's White Ledge Mid Ankle Boots
Timberland Women's White Ledge Mid Ankle Boots
You need waterproof hiking boots that can take on any trail conditions. Our White Ledge leather hikers feature shock-absorbing cushioning, rubber lug outsoles for traction and rugged outdoor-tested style.
LOOK NO FURTHER for trail-ready performance and style. Our selection of men's hiking boots, waterproof hiking boots, casual boots, and casual shoes is designed to fit in with your outdoor-ready ensembles.
TIMBERLAND HAS YOU COVERED whether you're looking for men's boots, women's boots, or kids boots. For the best in hiking boots, rain boots, work boots, casual shoes & boots & more, choose Timberland.
These Timberland Women's White Ledge Mid Ankle Boots have good reviews and a 4.5-star rating.
The uppers, which are seam-sealed are made of waterproof leather.
They feel solid, safe and very comfortable.
The cushioned collar and padded footbed provide absorption from the shock suffered from climbing over rocks and other rough terrains. The bed is dual-density EVA which aids with air circulation. This helps protect the plantar fascia. Although the boots have a rugged look to them, they are lightweight and don't need much time to break in.
These women's hiking boots come with a rubber sole for good traction.
They have a moisture-transferring lining that will keep your feet dry, even in the rain and snow.
The external heel covering gives good rear protection and keeps your heel in place while hiking. This is all in keeping with protecting the fascia.
The gusseted tongue keeps small stones and debris out.
D-ring eyelets and speed hooks make the lacing quick and easy.
These hiking boots tick all the boxes necessary to make them a good boot for Plantar Fasciitis sufferers, and with very reasonable pricing, is an excellent choice.
If you want to use orthotic inserts, you can remove the inner and replace it with your preferred insert or you may need to go a half size bigger and wider boot, as it could become uncomfortably tight.
Women are satisfied with these hiking boots for Plantar Fasciitis and have given them 5-star reviews and ratings in every aspect. They are excellent value for money.
Pros:
Waterproof leather uppers
Excellent value for money
Rubber sole gives good traction
Cons:
Good traction may wear soles faster depending on surface type
6. Salomon X Ultra 3 Wide Mid GTX Hiking Boots
Salomon X Ultra 3 Wide Mid GTX Hiking Boots
Waterproof Hiking Boots: Whether you are hitting the trails or looking for a solid work shoe, these extra durable, waterproof, mid height hiking boots are designed for women and offer maximum traction on all terrains
A Better Way Down: Designed with Descent Control Technology, the X Ultra 3 GORE-TEX mid height hiking shoe efficiently tackles technical hikes and really shines during tough descents, even in wet conditions
Adventure Awaits: Whether you love a local day hike or hitting the trails for a multi-day adventure, Salomon makes innovative hiking and backpacking shoes and boots for men and women to help you go the distance
These hiking boots are classified as extra durable and strong as they have so many features that give credence to this claim.
The Salomon X Ultra 3 Wide Mid GTX Hiking Boots are specially designed for women, are waterproof, and look good too.
The uppers are polyurethane-coated leather, suede, and anti-debris nylon mesh.
Abrasion-resistant liners are breathable, waterproof and quick drying. They are contoured to fit women's feet.
The Salomon hiking boots are mid-height and cover the ankle well, providing very good support. People consider them as one of the best hiking boots for women with Plantar Fasciitis.
The Energy Cell midsole is made of dual-density EVA foam which absorbs all shock effectively and provides cushioning, support and a good circulation of air.
The base mudguard has been designed using Descent Control Technology which offers you excellent traction and protects you from slipping and sliding on muddy and wet trails.
The rubber soles are flexible and provide good traction.
Integrated toe caps are also to ensure protection and durability.
Contoured EVA heel cups and a contoured dual-density EVA arch offer protection, durability, cushioning and support. This also makes them one of the best durable hiking boots for Plantar Fasciitis.
Pros:
Very durable
Abrasion resistant liners
Excellent ankle support
Cons:
7. Riemot Women's Hiking Shoes
Riemot Women's Hiking Shoes
★Insole: Micro suede insoles with open-cell foam backing, breathable and cushioned. Dual fitting styles come with a removable top insole and another removable layer underneath, allows you to customize your fit easily.
★Outsole: Durable rubber outsole with self cleaning open design for traction and safety, deliver highly slip-resistant stability on wet and dry ground, over mixed terrain. Optimal balance of stability and flexibility for ground adaptation. Well-cushioned flexible soles, which can help prevent blisters.
★Warranty: 30 days money back warranty. If there are any problems with the hiking shoes, please feel free to contact us.
The Riemot Women's Hiking shoes are inexpensive yet highly recommended by podiatrists for women suffering from Plantar Fasciitis.
The uppers are suede with a perforated design.
They have a fully waterproof lining that will keep your feet dry, but still allow breathability.
A padded tongue and collar give both comfort and stability.
These boots have a protective rubber toe cap.
Phylon midsole is made of EVA foam pellets compressed, heat expanded, and then cooled in a mold. They are then shaped to the design required. Phylon reduces weight and improves shock absorption.
The well-cushioned flexible soles are durable rubber with a design to promote traction and stability.
The insoles of these hiking boots are micro-suede with open-cell foam backing which is cushioned and breathable. The insole is removable allowing you to customize your fit as you prefer.
Pros:
It's a unisex boot
Well-cushioned soles
Waterproof lining
Removable insole
Cons:
Plantar Fasciitis Frequently Asked Questions
Verdict
Above all, if you know what to look for, you can find the correct hiking boots for women with Plantar Fasciitis. They come from leading brands and allow you to find the features that appeal to your foot problem best.
Although everyone wants to hike in comfort and safety when you suffer from Plantar fasciitis, not everyone can afford the specialized and branded hiking boots or shoes. Some boots might offer pain relief, but not treat the cause, which will always leave the risk of aggravating the situation.
The best hiking boots for foot problems are full of useful features, good looks and style. When you have Plantar Fasciitis, you will be looking at the best materials used, the best protection, the best cushioning and the best support.
Hiking boots for plantar fasciitis have to be comfortable and durable. You don't want to at last find hiking boots that reduce the pain and then find that after a year, they are already beginning to fall apart.
Whether you choose the best lightweight boot or one of the more heavyweight boots you expect durability. The best women's hiking boots for plantar fasciitis cater to this specific problem, ensuring that you will be able to enjoy your hiking without pain, and in complete comfort.
Sean is an accomplished backpacker with over 10 years of experience exploring the great outdoors. He has a passion for hiking, camping and off-grid living.