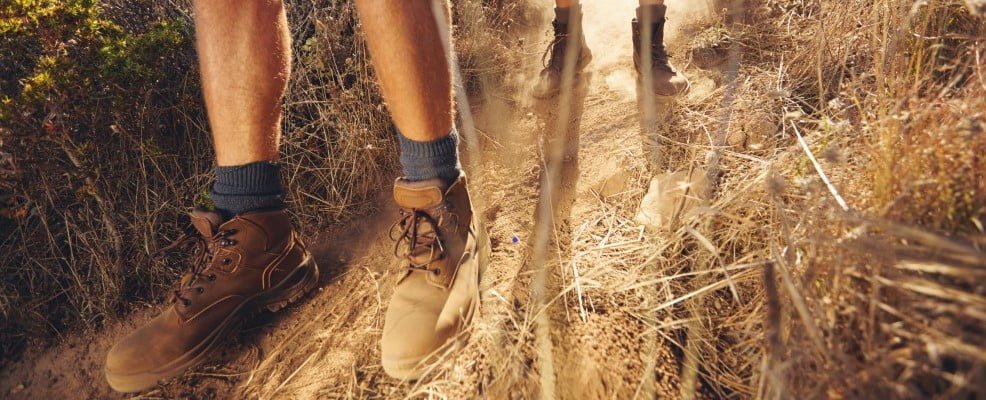 Toe pain is common when hiking downhill for hours. It is commonly addressed by choosing suitable footwear. Shoes to protect your toes when hiking downhill are ideal for preventing toe pain and foot pain in general. They are specifically made with better forefoot support.
If weight is evenly distributed on the feet when hiking on flat terrain this changes when hiking downhill. The center of gravity switches towards the forefoot. Prolonged periods of downhill hiking can make this new center of gravity cause discomfort and even toe pain.
Image
Best Price (Men)
Best Choice (Men)
Best Price (Women)
Best Choice (Women)
Name
Colombia Newton Ridge Plus II
Salomon Women's Pathfinder W
Best Price (Women)
Image
Name
Salomon Women's Pathfinder W
Best Choice (Women)
Image
10 Best Wide Toe Box Hiking Boots
Are you suffering from sore toes when hiking downhill? It's time to upgrade the old hiking shoes with responsive and supporting footwear that protects toes and toenails properly.
1. Colombia Newton Ridge Plus II
Sale
Colombia Newton Ridge Plus II
ADVANCED TECHNOLOGY: Columbia Men's Newton Ridge Plus II Waterproof Hiking Boot features our lightweight, durable midsole for long lasting comfort, superior cushioning, and high energy return as well as an advanced traction rubber sole for slip-free movement on rough ground.
HANDY FEATURES: Treacherous days out on the trail are comfortable and worry-free with this boot's waterproof full-grain leather and mesh bootie construction and its durable mesh tongue for breathability.
ADJUSTABLE FEATURES: The Newton Ridge Plus II Waterproof Hiking Boot features a lace-up closure for an adjustable, secure fit.
Colombia's Newton Ridge Plus II are ideal shoes to protect your toes when hiking downhill. Affordable and protective, these tall hiking boots are made with strong laces you can tighten properly as many times as needed. Loose laces are real issues when hiking downhill.
But there are a couple of extra reasons these hiking shoes are as good as they claim. Made with TechLite supportive cushioning, these hiking boots are known for good shock absorption, essential when the weight of your body starts to shift forward.
The Omni-Grip design of the outsole makes these hiking boots even better for downhill trails. This is the technical term used to describe Colombia's outsoles with good grip in all directions, essential for uneven surfaces such as those of trails.
Advantages
Secure lacing system to prevent in-boot foot slipping
Waterproof construction
Comfortable on long hikes
Disadvantages
Not best for wintertime thermal protection
---
2. Merell Moab 2
Merell Moab 2
Waterproof membrane seals out water and lets moisture escape
Pigskin leather and mesh upper
Metal hook traditional lace closure
A similar wide toebox as seen on the Colombia boots above is offered by Merell with its Moab 2. These suede downhill hiking boots aren't as bulky. As a result, they are better suited for multi-day hikes. The boots are ideal for long trekking sessions where reducing weight is a priority.
You can also consider these shoes for reducing toe pain when hiking. This is achieved through a supportive midsole and a Vibram (popular third-party brand) outsole known for its durability.
Hiking downhill is easiest when performed in a zig-zag manner. You feel the highest toe pain when hiking downhill in a straight line. This is where the toes get reduced stress compared to straight descents. These Merell shoes are perfect for zig-zag downhill hiking as they also offer a hell air cushion so that you can rest your forefoot while switching the center of gravity towards the heel.
Advantages
Made with waterproof materials
Perfect for multi-day trekking
100% suede upper materials
Disadvantages
Only available in wide sizes
---
3. Salomon Women's OutLine Mid GTX W
Salomon Women's OutLine Mid GTX W
Waterproof Hiking Shoes: This comfortable, mid height hiking shoe features durable GORE-TEX to keep your feet dry and a lug pattern that works well on both hard and smooth or soft and loose surfaces
Any Path Your Way: Whether you're trail running, hiking, or just exploring outdoors the sleek, lightweight mid height OUTline GORE-TEX has the flexibility of a running shoe with enough grip and protection for any trail
Go The Distance: Whether you love road running in your neighborhood, an escape to a local trail, or something more rugged, Salomon makes shoes that ensure you have a smooth ride on any and all terrain
Rubbing toes is a common issue with downhill hiking. Consistent rubbing leads to blisters. However, the right hiking shoes can prevent rubbing by adding a bit of width to the forefoot. This is the case with the highly versatile Salomon Women's OutLine hiking boots.
The high upper collar also recommends these hiking boots for a bit more ankle support. If you need that support, then these tall boots are ideal for the job.
Cushioning is good as well. Women agree these hiking boots do a good job even on rocky terrain which would otherwise cause further foot pain even to heels, not just the toes. The ability to keep the feet dry longer even in warm weather is another advantage of these boots worth taking into account.
Advantages
Waterproof protection
Made with a removable insole
Available in 4 colors
Disadvantages
Not best for wintertime thermal protection
---
4. Salomon Speedcross 5
Salomon Speedcross 5
Trail Running Shoes: Featuring an aggressive grip, precise foothold, and protection, the Salomon Speedcross 5 is the ideal shoe for runners who want to conquer soft, technical trails
Get Rough: Redesigned with deep, sharp lugs for an improved grip and a more dynamic upper for better fit and stability, the Speedcross 5 is the perfect shoe for trail runners who aren't afraid of wet, dirty terrain
Go The Distance: Whether you love road running in your neighborhood, an escape to a local trail, or something more rugged, Salomon makes shoes that ensure you have a smooth ride on any and all terrain
Salomon's trail running shoes are ideal for long steep descents. Heavy hiking boots show their limits when you need to pick up the pace, as it's often the case with steep descents. If you're facing a technical hike where you have to come down from a tall mountain good trail running shoes can be a solid backup to the hiking boots you use to climb the summit.
With the help of an extended outsole, these hiking shoes protect your toes from occasional bumps as well. These shoes are partly known for their capacity to support runners and partly for their capacity to offer solid traction when hiking. This is the main reason to consider them especially if you're facing changing terrains when hiking downhill such as trails, grass, and rocky terrains.
Advantages
Made with sharp lugs
Available in multiple colors
Improved breathability upper
Disadvantages
Only available with QuickLace lacing
---
5. Nortiv 8 Hiking Boots
Sale
Nortiv 8 Hiking Boots
Comfortableness: NORTIV 8 Men's Waterproof Hiking Boots certainly delivers on all-day comfort! Removable and shock-absorbent cushioned insoles offer the best support for your feet.
Lightweight and Flexible EVA midsoles: reduce foot fatigue. They are designed for long-lasting comfort, superior cushioning, and high energy return.
Non-slip & Durable: High-quality rubber soles are fully slip-proof and feature advanced traction for firm stability on challenging terrains. No more slipping and falling on wet or muddy surfaces!
These wide hiking boots are ideal for sensitive feet. Made with extra room compared to the boots listed above, these hiking boots are perfect for very specific foot conditions. For example, you can hike downhill wearing these boots if you suffer from Plantar Fasciitis given they have enough room for an extra insole. At the same time, you can add an extra insole for more support in the forefoot if you feel the pain in your toes is too high.
These boots are also water-resistant. They have been tested in rainy conditions of up to a few hours. Sure, you won't be able to walk through water streams for too long but the boots keep your feet dry in case you're surprised by rain on the descent.
Designed with a rubber-covered toe cap the boots are also highly protective on technical terrain. Having your toes protected, especially when you suffer from Morton's Toe. This is a condition where the second toe is longer than the first toe. People with Morton's Toe have a difficult time finding the best hiking shoes, particularly for downhill use.
Advantages
Designed with a flexible midsole
Padded tongue collar – ideal for tight lacing on descents
Made with replaceable laces
Disadvantages
Designed without a steel toe
---
6. Colombia Crestwood
Sale
Colombia Crestwood
NIMBLE HIKER: The perfect combination of high function and performance, this all-purpose hiker will deliver years of comfortable service
SUEDE LEATHER UPPER: This nimble lace-up integrates a combination upper, featuring leather, mesh, and webbing — all combine into a durable shoe you'll appreciate for seasons to come
ALL-DAY COMFORT: Equipped with our TechLite midsole, this shoe delivers long lasting comfort, superior cushioning, and high energy return
If you like how the Newton Ridge Plus II from Colombia feels you can have a lighter version in the Crestwood hiking shoes. These also feature the same TechLite cushioning which makes your feet feel a bit more comfortable on rough terrains when heading downhill.
Designed with classic lacing and a durable upper with overlays, these hiking shoes are made to last. Lightweight and ideal for long hiking sessions, they can also be considered by occasional hikers since they're not as bulky as winter hiking boots.
Rubber outsoles ensure these hiking shoes are equipped for demanding terrain. However, they aren't ideal for hiking through water streams and puddles since they aren't completely waterproof.
Advantages
Made with suede and breathable mesh upper materials
Lightweight at 13 ounces
Available in 5 colors
Disadvantages
Not made for wintertime hiking
---
7. Timberland Pro
Some downhill hiking terrains are notorious for their technicality. A technical trail is always a rocky trail or a surface with plenty of obstacles such as numerous tree branches. Carefully navigating these with simple boots is quite difficult. This is why you can use steel-toe reinforced hiking boots such as those from Timberland.
Ideal for difficult terrains, these boots feature a reinforced toe box. This rugged forefoot also recommends hiking boots for all of those who have a longer second toe as this can cause problems when going downhill.
EVA foam cushioning makes the hiking boots even more durable for long hikes. This type of foam is used in some of the leading boot brands of the moment which makes the proven material a safe choice when you need proper cushioning.
Advantages
Made with thick wide laces
Designed for high ankle support
Reinforced forefoot for extra protection
Disadvantages
---
8. Keen Voyageur
Sale
Keen Voyageur
UPPER: Water resistant leather keeps your feet dry and performance mesh increases air flow
TRACTION & PROTECTION: 4mm multi directional lugs for increased traction on and off the trails; KEEN.ALL-TERRAIN rubber outsole for higher traction grip when you need it
SUPPORT: Stability support shank provides support on uneven surfaces; Injected heel capture system provides next level stability by holding the heel in place
The Voyageur represents lightweight climbing and hiking downhill shoes. Made with a thick ankle collar, they are particularly comfortable on descents when a lot of the weight shifts forwards. Unlike other similarly-sized hiking shoes, Keen's Voyageur is known for its more rugged sole. For example, if Salomon offers flexible midsoles which are great even for running downhill, Keen's Voyageur is limited to hiking downhill, particularly on rocky trails given the stiff midsole and multi-directional asymmetrical lugs.
Cushioned by an EVA foam footbed, the hiking shoes are suitable both for long and short hikes. Most of those who try these shoes also report improvements in symptoms such as Plantar Fasciitis or heel pain given the shoes feature a thick foam insole.
Advantages
Made with leather and mesh for extra breathability
Good traction across all surfaces
Designed with non-marking rubber
Disadvantages
Not as flexible as Salomon hiking shoes
---
9. Salomon Women's Pathfinder W
Salomon Women's Pathfinder W
TRAIL RUNNING SHOES: These lightweight, low-top hiking & trail running shoes combine style & function with protective coated-leather uppers & an aggressive grip so you can make any trail your own.
ANY PATH YOUR WAY: With its ultra-durable, all-terrain grip the Salomon Pathfinder line of shoes is perfect for walking, hiking, backpacking, or trail running on every type of terrain.
GO THE DISTANCE: Whether you love daily road running in your neighborhood, an escape to a local trail, or something more rugged, Salomon makes shoes that ensure you have a smooth ride on any & all terrain.
These Salomon hiking shoes are specifically made for women. One of the main advantages you can enjoy wearing them downhill is the enhanced cushioning. With thick tongue cushioning these shoes are made without any rubbing spots. This makes them ideal for the steepest descents since rubbing tends to be accentuated when walking downhill.
Furthermore, these are part of a Salomon line of shoe designs with classic lacing. If you aren't a fan of SpeedLacing but still prefer Salomon shoes you might find the Pathfinder for Women quite versatile. Classic laces allow you to tighten the shoes to the extent you feel most comfortable with.
Advantages
Made for all-terrain grip
Designed with strong classic lacing
Good traction when walking downhill
Disadvantages
Mainly suitable for wide feet
---
10. Keen Targhee II
Sale
Keen Targhee II
WATERPROOF & PROTECTION: KEEN.DRY breathable membrane keeps feet dry and comfortable by allowing vapor out without letting water in; Bruise plate for protection on uneven surfaces; High abrasion rubber toe guard for added durability
MATERIAL & CONSCIOUSLY CREATED: Durable premium leather and breathable performance mesh; Quick dry lining for active use; KEEN sources hides from Leather Working Group certified tanneries; Environmentally friendly DWR helps keep leather from drying out
TRACTION: KEEN ALL-TERRAIN rubber provides high traction grip in muddy environments and on rocky surfaces; 4mm multi direction lugs provide optimal traction for sure footing; Non marking rubber outsoles leaves no imprints when walking indoors
Unlike Voyageur, Keen's Targhee II represents ideal hiking shoes when you're carrying heavy backpacks. The added ankle support and the thicker midsole make these hiking boots ideal for hiking downhill with heavy hiking equipment such as tents, water bottles, food, clothes, and other items that fit a regular backpack.
Available in regular and wide sizes, these boots are ideal for multiple types of feet. The wide version is similar at the base but it features a roomier upper which can be a bit more comfortable design for hiking long distances.
Advantages
Wearable with thick hiking socks
Good for hiking in the rain
Made with dual-density foam cushioning
Disadvantages
Designed without a safety toe
To accommodate wider feet, we have reviewed some of the best women's hiking shoes for wide feet in another article here.
How shoes protect your toes when hiking downhill
Toe pain from hiking downhill can be considerably reduced or even eliminated when prioritizing the right footwear. Both hiking shoes and hiking boots are good at descents since they come with the following benefits.
1. Improved forefoot cushioning to reduce toe pain when hiking downhill
Cushioning is essential in hiking shoes. Foam is normally used in these types of shoes to dampen stride shocks. Extra cushioning in the forefoot and superior arch support are essential when hiking downhill. Some hikers say they even prefer shoes that are half a size larger to ensure sufficient space for the expanding foot as a result of walking on a steep decline terrain.
2. Better arch support for even weight distribution
Arch support is at least as important as forefoot support. The best shoes to protect your toes when hiking downhill are made with superior forefoot and midfoot support as these are the areas with the highest pressure inside the footwear.
3. Anti-slip insoles to prevent the in-shoe foot from slipping
In-shoe slipping is the most problematic when hiking downhill. It can be prevented by wearing hiking shoes that fit properly as well as by choosing anti-slip insole hiking shoes.
Some shoes that are intentionally made with a wide upper might also be worn downhill. However, you need to wear thicker hiking socks to prevent the in-shoe foot from slipping with these hiking shoes.
4. Adding more space to the toebox
A narrow-toe box is not ideal for hiking downhill. While narrow hiking shoes can feel faster and lighter, the reduced bulk also means there's little room for your toes to move in. Downhill hiking shoes are always made with a wider toebox as a result.
Apart from adding more space to the forefoot the right hiking boots for downhill hiking should be made with extra forefoot protection. This can come either as forefoot overlays or as extended outsoles which cover the forefoot. The role of these designs is to minimize shocks when you accidentally hit hard surfaces such as rocks or thick tree roots. Aside from switching shoes, you may want to check our article on ways to protect your toes when hiking downhill for additional tips and resources.
Conclusion
Choosing the right shoes with adequate insoles gives you that added comfort while hiking especially if you are trying to protect your toes when hiking downhill. You may want to understand the features of the shoes discussed and then select the hiking footwear that meets your budget and requirements. If you have tried any or would like to leave your feedback, feel free to do so via the contact us page.
Andrea is passionate about going on adventures and enjoys spending quality time with her loved ones, whether it's hiking through the mountains or camping by the lake.