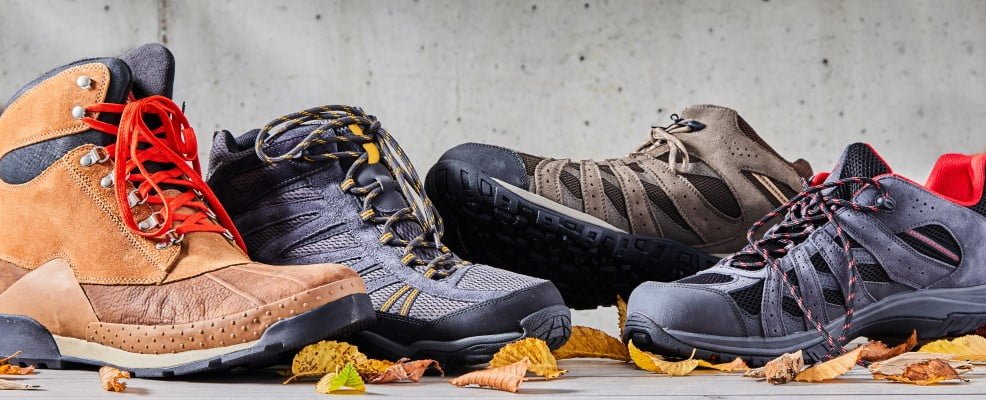 Are there even women's hiking shoes for wide feet? Wide feet need not be a concern, but if you're a hiker, it's important to find the appropriate hiking boot.
Squashing wide feet into a narrow hiking boot will just result in blisters and possibly the early end of an enjoyable hike. A thing to remember when shopping for a wider boot is to rather opt for a hiking boot and not a hiking shoe. Generally speaking, boots are manufactured wider than shoes. A good fit is very important.
Top Seven Women's Hiking Shoes for Wide Feet
Title
Best Budget
Nevados Klondike Mid Waterproof Hiking Boots
Most Durable
Keen Women's Targhee II Mid Waterproof Hiking Boots
Luxury Choice
Zamberlan Vioz GTX Hiking Boots
Preview
1. Altra Women's Lone Peak 4 Mid Mesh Trail Running Shoe
These are not really boots, but many people find the Altra Women's Lone Peak 4 Mid Mesh Trail Running Shoe more than adequate and comfortable for shorter hikes or walking trails. A big plus for women who have wide feet is the Altra Foot shape toe box which allows your toes to spread, instead of them being squashed up.
Uppers are Quick-Dry Air Mesh fabric. A weather-resistant membrane keeps your feet dry in wet conditions and provides breathability.
The insole has a 5mm contoured and cushioned footbed, with a StoneGuard insert (a thin removable sheet of plastic that slides underneath).
The boots have a midsole of dual-layer EVA for good cushioning and comfort.
The outsole is DuraTread rubber with Trailclaw lugs for downhill traction and grip.
GaiterTrap is the attachable barrier that keeps out stones and other debris.
These boots have over-the-ankle height adding protection and support for the ankle.
Pros:
The generously wide toe box
Superb traction and grip
Excellent ankle support
Cons:
Consistency with the length of boots
2. Zamberlan Vioz GTX Hiking Boots
Sale
This is one of the most expensive boots available, but everything about them is top quality.
The Zamberlan Vioz GTX hiking boots are ideal for any type of hiking excursion that requires a high degree of foot protection in tough conditions.
The uppers are waxed Tuscan full-grain leather with Hydrobloc, which is known as a superior water repellent.
There is an anatomical wrap over the top of the foot, a very roomy toe box, which makes it perfect for those wide feet, and an excellent heel lock. This is all part of ZLF (Zamberlan Ladies Fit).
The toe box outer is polyurethane-coated rubber for added protection.
The breathable waterproof membrane is Gore-Tex Performance Comfort and offers protection from harsh outside weather conditions.
The incredible interior is Zamberlan memory foam which provides cushioning and support.
For comfort at the cuffs, the lining is soft calf leather.
The firm midsole is polyurethane which gives underfoot support and excellent shock absorption.
The rubber sole is Zamberlan Vibram 3D which has a rugged lug pattern for amazing grip and traction on rough all-weather terrain.
The Zamberlan Flex System allows the boot to forward flex without affecting the lateral support.
There is a sturdy plate (shank) over the arch which also adds to the support and stability.
Pros:
Waterproof
Very Durable
Breathable
Amazing grip
Cons:
3. Keen Women's Targhee II Mid-Hiking Boots
Sale
KEEN Women's TARGHEE II MID Waterproof Hiking Boot
WATERPROOF: KEEN.DRY waterproof breathable membrane keeps your feet dry and comfortable all day long by allowing vapor out without letting water in
TRACTION: KEEN ALL-TERRAIN rubber outsole provides high traction grip in muddy environments and on rocky surfaces; Non marking rubber outsoles leaves no trace or imprints when walking indoors
SUPPORT: External Support Shank and mid cut height adds ankle support and balance on uneven surfaces; Contoured heel provides next level stability
Uppers are durable with the Keen Women's Targhee II Mid hiking boots. They are waterproof and salt resistant 100% leather. All leather is treated with a water-repellent. These uppers are designed to last.
The boots have the Keen Dry waterproof membrane which keeps your feet dry and comfortable.
These hiking boots are built from Keen's traditional form for wide feet.
The tongue and collar are padded and the contoured heel provides superior comfort.
The footbed cradles the foot in its design and provides excellent arch support.
The EVA midsole provides support and comfort
The External Support Shank is there to add support and stability.
The Keen All-Terrain outsole with its 4mm lugs provides excellent grip and traction whether in muddy, wet, or rocky terrain.
The above-ankle height of these boots also gives increased ankle support.
Pros:
Super comfy for wide feet
Excellent toe protection
Lightweight
Cons
4. Nevados Klondike Mid Waterproof Hiking Boots
These boots are not waterproof but are water-resistant and weather-proof. Wading through streams or hiking in the snow with the Nevados Klomdike Mid Waterproof hiking boots will find your feet and socks very wet, although just stepping through a stream will be fine.
Uppers are 100% suede leather, which is lightweight, and breathable nylon mesh. If water does get in, the nylon mesh dries very quickly.
True to size, and excellent for women with wide feet.
These hiking boots use lightweight and durable materials, thereby ensuring a comfortable hike, especially for beginners.
Although not entirely necessary, it may be good to break these boots for wide feet in first, to be sure there are no places that rub.
The midsole is molded EVA which offers great cushioning. It is lighter and less expensive than heavier polyurethane.
This boot is classified as a "mid wide", which means it is wider than normal boots, and covers your ankle.
The outsole is carbon rubber, Carbon is an additive used to increase the hardness of the soles. The lug pattern on the soles offers good grip and traction in all weathers and terrain.
The footbed cradles the heel well ensuring comfort and stability.
Pros:
Waterproof
Heavy duty
Good grip and traction in all weather
Cons:
Some users say the shoe isn't robust enough
5. Hi-Tec Women's Skamania Mid Wp-w
Uppers of the Hi-Tec Women's Skamania Mid Wp-w are waterproof suede and high-performance mesh, keeping the boot light, and you dry.
There is a removable molded footbed enabling you to replace it with your personal orthotic inserts.
Midsoles and outsoles are cushioned EVA which is lightweight and has a bit more grip, but not as much durability as rubber. EVA is also more shock-absorbent.
The boots have a thick cushioned collar for comfort and support.
There is a loop at the back of the boot enabling an easy pull-on.
The boot has a steel shank which adds support, strength, and stability.
The lacing system has convenient speed lace hardware.
These hiking boots for wide feet are inexpensive, but excellent value for money with many 5 star reviews.
Pros:
Lightweight
Waterproof
Strength and stability with steel shank
Cons:
The sole could be thicker – too thin
6. La Sportiva Women's Ultra Raptor II Mid GTX Wide Hiking Boots
La Sportiva Womens Ultra Raptor II Mid GTX Wide Hiking Boots
LIGHT & FAST HIKER: Made for hikers who want a boot that is protective and supports light to medium loads with a light and fast trail running influence.
GORE-TEX WATERPROOF PROTECTION: Keep your feet dry with Gore Tex waterproof and breathable lining. Microfiber mud guard adds protection from trail elements
SIZING & FIT: Runs Small. Normal or Large Feet - buy 1 SIZE UP. Small feet - buy 1/2 Size Up. Available in both Regular(C) and Wide(D) widths. Users who hike long distances, use thick socks, or are new to La Sportiva may consider an addition 1/2 up.
This is a mid-height boot, lightweight, but durable.
The uppers of the La Sportiva Women's consist of high-weave AirMesh microfiber and thermoplastic polyurethane, making them lightweight, durable, and breathable.
The waterproof and breathable linings are Gore-Tex Extended Comfort. Together with the Gore=Flex nylon mesh they give rugged protection as well as the comfort of good flexibility.
Midsoles are compression molded MEMlex and with the molded TPU Transfer shanks, give good cushioning support and springy bounce.
The TPU (Thermoplastic Polyurethane) harnesses and tongues complete the secure fit of the uppers.
The rubber FriXion XF 2.0 outsoles with Impact Brake System X-Axis and GrailBite heels give excellent grip and traction.
These women's hiking boots come in WIDE sizes so you can be assured that they are roomy, and stable enough to ensure a comfortable hike.
Pros:
Great durability and stability
Waterproof and breathable
Rugged protection and comfort
Cons:
Narrow toe box
Shallow lugs
7. Vasque Women's Talus Trek UltraDry Hiking Boot
Uppers of the Vasque Women's Talus Trek Ultra Dry are made with 90% of durable and high-quality nubuck leather, which is water-resistant. 10% is abrasion-resistant polyamide mesh.
The UltraDry membrane is waterproof which keeps your feet dry in all weather conditions.
The lacing system is webbing and speed-lacing for convenience.
The midsole is dual-density EVA which provides superb cushioning and keeps the boot lightweight. The TPU shaft enhances the arch support.
The insole is removable if you prefer your own personal orthotic inserts. The wicking mesh lining keeps your feet dry from a buildup of sweat.
The outsole is Vibram Nuasi with XSTrek Compound and multi-directional lugs for increased stability, balance, traction, and grip.
This boot cannot be overlooked for women looking for wide and trendy hiking boots.
Pros:
Waterproof
Convenient speed-lacing
Lightweight
Cons:
Some users say it's not as robust
Buying Guide Questions and Answers
1. I have had toe surgery in recent months – would you think a wide-width boot might keep my toes pain and injury-free even though my foot is not particularly wide?
Yes, this might do the trick. Look also for a boot with a roomy toe-box.
2. My feet seem wider at certain times of the day – why is this?
Your feet are a bit more swollen at the end of the day if you've been standing a lot, or even if you've just returned from a long walk or hike.
3. Is there a good and a bad time to try on boots?
If you find your feet swell during the day, don't try on boots in the early morning when they are their normal size.
4. What about wearing socks when you have wide feet?
If you will be hiking in the winter and want to wear thick socks for warmth, take a pair of socks with you at a later time of day, and choose the most comfortable boots then.
5. Are boots for wide feet expensive if you want good quality?
Not necessarily so – you get some excellent quality boots that are very inexpensive. On the other hand, when you find a pair that ticks all your boxes, they might be a lot more expensive. Remember, the difference between an enjoyable hike and an agonizing one, all depends on the fit!
If you would like to explore more options to ensure all your needs are met then, check out our articles on yeezy hiking boots and shoes reviewed specifically to address toe pain when hiking downhill.
6. If you are new to hiking, how do you 'read' and decode what boot sizes mean?
There are some terms you can familiarize yourself with to make the search for boots a little easier.
Wide – D, E, 2E, EE, W
Extra wide – EEE, 3W, 3E, 4E, X, XW
2X Wide – 5E, 6E, XX, XXW
3X Wide – 7E, 8E
EVA – ethylene vinyl acetate, a cushioning material that makes up the midsole. Cheaper than Polyurethane.
Midsole – This part is there for impact protection
Insole – The inside of the boot that cradles the foot
Membrane – The inside layer of the boot
Outsole – The rubber base of the sole
Plates – Flexible inserts for cushioning between the midsole and the outsole
Polyurethane – Also to be found in the midsole as a firmer alternative to EVA
Shanks – Inserts that are sometimes added to the boot to make them stronger to support heavy backpacks.
Uppers – The textile or material used for the top of the boot.
Verdict
There is no point in denying yourself the pleasure and fun of joining your friends for a social hike because of your inability to find decent boots. There are many Women's Hiking Boots out there that cater to wide feet.
When you start looking for good hiking boots for wide feet, you can take your pick from budget boots, luxury boots, and durable boots. All of them have some amazing features and many of them are darn stylish and good-looking as well.
The best women's hiking shoes for wide feet may well be more difficult to find than your regular-sized boots, but armed with a bit of research, patience, and some determination you CAN find the perfect fit for yourself. It is possible, and soon you will be joining your friends, and having the time of your life.
Andrea is passionate about going on adventures and enjoys spending quality time with her loved ones, whether it's hiking through the mountains or camping by the lake.