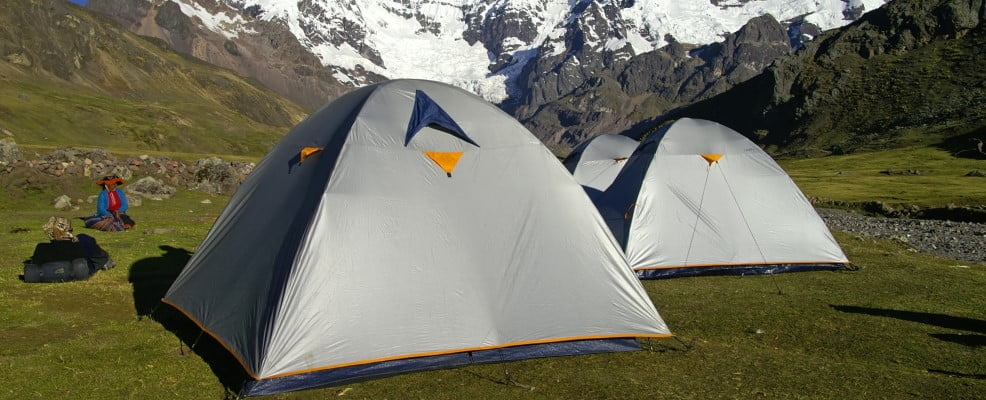 Tall campers and hikers can rejoice because there are plenty of options for tall camping tents that will keep you comfortable.
In this article, I review the top six camping tents for tall people and explain why they are a great option. No matter how many people you have in your tent or how tall you are, you will find a great tent for you below.
Our Team's Tall Camping Tent Picks
Top 6 Tall Camping Tents for 2023
1. Coleman Sundome Camping Tent 4-Person Dome Tent
Sale
Coleman Sundome Camping Tent 4-Person Dome Tent
Dome tent with a sturdy frame that withstands 35+ mph winds
Easy setup in only 10 minutes. Good for backpacking
Weathertec system with patented welded floors and inverted seams to keep you dry
The best overall option, if you are looking for tall camping tents, is the Coleman Sundome Camping Tent 4-Person Dome Tent.
It is also designed with weather protection. You will stay dry if it rains, and the tent can withstand up to 35 mph winds. When the weather is nice, enjoy the large windows, which you can unzip to allow air to flow into the tent.
The center goes up to 4 feet and 11 inches tall, which is not enough for most people to stand. But it is a great tall tent if you are new to camping or want to buy a taller tent on a budget. Coleman is also a trusted brand for campers and hikers, so you can expect the tent to last a long time. And, if any issues arise, there is a one-year warranty included with your purchase.
And you have multiple color options to choose from, including Navy Blue, Palm Green, and Spruce Green. Or, if a four-person tent is not the right size for you, opt for a 2-, 3-, or 6-person tent instead. I like this tall 4-person tent that is budget-friendly. It is also tall enough for most people to sit up or kneel, and Coleman is a reliable brand.
2. Hewolf Waterproof Instant Camping Tent
Hewolf Waterproof Instant Camping Tent
Fast Pitch Tent with Spacious Interior - Very fast to pop up and take down,the poles and tent material are joined permanently to the poles,and the poles only partly break down, opening it up is as easy as opening an umbrella, hexagon shape with 5ft 5inch center height which let you move comfortably
Waterproof Automatic setup Tent - One day you go to beach with your daughter and son,So happy small family,The tent is going to get a lot of use for your family,protect you from sun and rain,excellent beach camping tent
Versatile Cinch Pop up Tent - This double wall tent is constructed of flysheet, inner removed mesh tent, a rainfly and equped accessories, have all advantage you want like a place to hang a lantern or light, mesh on the windows to keep out bugs, a zippered screen, rain proof and sturdy
If you want a budget-friendly, waterproof tall tent, check out the Hewolf tent, which is easy to set up and can fit up to four people comfortably. The poles and fabric on the tent are all attached, so it is easy to put the tent up and go fast since you are not threading the poles into the tent each time.
The middle of the tent is five feet and five inches tall, so many adults and kids can stand up fully in it. And, there is a spot inside to hang a light without sacrificing ground space. Other features of this tent include mesh windows and a zippered screen to keep out bugs.
There are also doors on each side to make access to the ten easy and keep air flowing. Each door has an awning you pop up for some additional protection from the sun or rain. You also have four color options with this tent: camel, black-gray, blue, and green.
I like the Hewolf tall tent because it is budget-friendly and waterproof. It is great for a starter tent in any weather.
3. 6-Person Liamoy Instant Camping Tent
Sale
6-Person Liamoy Instant Camping Tent
【60 seconds Easy Set-Up】No special tricks are required, and 1 person could easily set up an internal tent in 1 Minute(Tip: New floors old floors are shipped randomly. Please choose carefully)
【Roomy for family of 6 Person】Liamoy instant cabin tent is one of the perfect family tents you have ever seen. The size is10*9*6.5(H)ft.2 queen air mattresses or 6 sleeping bags are well fit in the tent. Ideal for family car camping or camping site
【All-round Protection】Made of 190T polyester. The tent uses a high-tech 1200mm polyurethane hydrostational rating coating to ensure the water resistance of the PU1200mm. Rain poncho seams and tent seams are made of waterproof tent PU glue, with welding angle PE pipe floor, could keep the inside of the tent absolutely dry in the light rain. Ideal for round-the-clock outdoor camping, hiking and fishing
Another great waterproof option that is taller than the tall tent above is the Liamoy 6-person tent. The highlight of this tent is that it is extremely easy to set up, and it only takes 60 seconds each time.
You only need one person to set it up, thanks to the telescopic rod that is preinstalled. You can also take it down just as fast, also on your own. The tent also comes in a slightly more affordable, 3-minute setup option. It is not an instant setup, but still easy.
The tent stays waterproof even in the hardest rains thanks to the polyurethane hydro stational coating.
This tent is plenty tall at 78 inches, which means almost anyone can stand up straight in the tent. The tent also has two doors which allow for convenient entry, exit, and airflow. You also get two mats, mesh pockets to store your valuables, and an e-port for easy electricity.
My favorite thing about the Liamoy tent can go up in just 60 seconds and one person can set it up alone.
4. Gazelle Tents™, T4 Plus Hub Tent
Gazelle Tents™, T4 Plus Hub Tent
Has space to sleep 4-8 people with plenty of room for additional gear
Convertible screen room for additional leisure or sleeping area
78" tall allowing you to move around freely
If you want some larger tall camping tents, check out the Gazelle Hub Tents, which fit eight people comfortably. The tent is designed to be used in all four seasons thanks to the removable rain fly, UV protection, and mesh windows.
It is a great tall tent thanks to its 78-inch height throughout the entire tent. It is easy to assemble the tent thanks to its hub design. The tent can be put up in just 90 seconds, making it great for both tall campers and larger groups of family and friends.
You can also remove the floors in this tent for easy cleaning. If you want more living or sleeping space in the tent, you can convert the screen room into an indoor area.
You will also have plenty of storage space in the tent for your hiking, camping, and cooking gear.
There are also storage pockets for smaller items and larger pouches on the wall of the tent for items you need to keep accessible.
I love Gazelle tall tents because they can withstand sun, rain, wind, and snow.
5. KTT Extra Large 12 Person Tent
Sale
KTT Extra Large Tent 12 Person
This is NOT a automatic pop up tent that need to be built by hand, suitable for customers who are good at hands-on ability, folding support rod, small package volume, easy to carry and storage for self-drive travel, BUT please install carefully according to the installation drawings and instrucitons, be sure to fix the stakes & wind ropes step by step, it will be more stable than automatic tent.Please DO NOT choose this tent if you want to build quickly in 60S.
Large space:Inside dimension14.1ft length*10ft width*6.58ft height, fit 4 full air mattresses(6.7ft*5ft/200cm*150cm),can accommodate 10~12 person,3 doors with mesh,3 Windows with mesh,divided into two rooms by separation curtain.
Materials:Waterproof Oxford Polyester, mesh,Iron and glass fibre,KTT Reg.No:5661428,Patent No:D9706***.
Another great option for tall camping tents is the KTT Extra Large Tent which fits up to 12 people. Even if you do not have 12 people camping out, having extra space in your tent is always nice, especially for tall people.
The tent is waterproof, and the entire tent has a height of over 6 feet 6 inches, so there is no worrying about standing up. There are three doors for easy entry and continuous airflow. The door in the front also can act as an awning using two of the poles provided. You can also divide the tent in half with the separation curtain.
One thing to note about this tent is that it is not quick to set up like some of the other tents for tall people on this list. But, given its size and the high quality at a relatively low price, I think it is worth the extra effort.
If you like the features this tent offers, you can choose between brown, blue, and green.
I like this 12-person tent because it has room for everyone to sit, stand, and sleep. You also have plenty of storage space.
6. DANCHEL OUTDOOR B5 Pro Canvas Bell Tent
DANCHEL OUTDOOR B5 Pro Canvas Bell Tents
🔸HEAVY DUTY CANVAS TENT: 5m/16.4ft Dia. Made of 330GSM(9.7oz/yd²) thicker 100% unbleached breathable cotton canvas. To make yurt tent smell odorless, we did not add extra PU coating which means that if you are camping in heavy rain, we recommend you to order rain fly tarp to add waterproofing.
🔸6 PERSON GLAMPING TENT: 83lbs.Can put two queen size beds or eight 75*30inch sleep bags. With 3m/9.8ft center pole& 5.2' door height,31.5''/80cm side wall, bell tents create liveable space. Stand/walk in tent without any stoop.
🔸5.9'' PRE-CUT 2 STOVE JACKS: 5.9inch Dia. roof stove jack with waterproof flap is suitable for winter camping with tent wood stove. Wide side wall vent design allows you run extension cord in for lights/portable aircon. 4 season camping yurt tent for house living.
If you are looking for one of the best tents for tall people and are willing to spend money to get it, a Danchel Outdoor Pro Canvas Bell Tent is your best option. It is a large, luxurious tent where you can stand up fully thanks to the eight-foot center.
The one door is 4 feet and nine inches tall, which many people will have to duck under, but a smaller door also means more privacy. The tent is shaped more like a yurt than a traditional tent, which allows it to stay standing in strong winds, rain, and even a little snow.
You have plenty of extension cord access points in the tent as well as two five-inch stove jacks. These will fit most wood stoves, and you can even hook up the air conditioning for the ultimate luxury camping experience.
If you want a size other than a tall four-person tent, you can opt for a 2, 6, or 8-person option.
The Danchel tent is more expensive than the other options but I like it because it has all the features you would want on a luxury camping trip
Tall Camping Tents Comparison Table
| | | | | |
| --- | --- | --- | --- | --- |
| Tent | Price | Capacity | Size | Weight |
| Coleman Sundome Camping Tent 4-Person Dome Tent | $89.99 | 2-6 people | 108″ x 84″ x 59″H | 10 pounds |
| Hewolf Waterproof Instant Camping Tent | $168.99 | 2-4 people | 40″ x 7″ x 6.7″H | 11.5 pounds |
| Danchel Outdoor B5 Pro Canvas Bell Tents | $649 | 4 people | 157.48″ x 157.48″ x 98.43″H | 60 pounds |
| Gazelle Tents™, T4 Plus Hub Tent | $579.99 | 8 people | 165″ x 94″ x 78″H | 56 pounds |
| 6-Person Liamoy Tent/Instant for Camping | $149.98 | 6 people | 120" x 108" x 78"H | 19.6 pounds |
| KTT Extra Large Tent 12 Person | $299.99 | 10-12 people | 169.2" x 120" x 78.96"H | 34 pounds |
Buying guide questions: What to look for in tall camping tents
There are a few things to consider when looking for tall camping tents, and obviously, the most important is the actual height of the tent.
If you are a tall person, check the exact measurements of the tent so you know if you will have enough space to stand up or not. Or, if you just want a little extra space in your tent which is why you want a taller option, any of the tents on this list should work well for you.
Also, make sure to consider the number of people that the tent fits. Just because the tent is tall does not mean there is extra sleeping space for taller-than-average people. If you want extra space for taller people, you may want to get a tent with a larger capacity than you actually need.
Finally, consider the weather and season you will be camping in. If you expect to have rain or high winds, make sure your tent is equipped to handle it regardless of the height of the tall tent you choose.
Tall Tents Frequently Asked Questions
Verdict
Lucky for tall people, there are plenty of options for tents that will keep you comfortable.
The best overall tent is the Coleman Sundome Camping Tent which is a reliable brand and a budget-friendly option.
However, if you want something very tall, your best tall tent options are the 6-Person Liamoy Tent or the KTT Extra Large Tent.
All the tall camping tents listed in this article are great options, no matter what height tent you want and how many people you have camping with you.
Andrea is passionate about going on adventures and enjoys spending quality time with her loved ones, whether it's hiking through the mountains or camping by the lake.