Finding the best camping gear for families can seem overwhelming, but packing and planning a family camping trip should be fun and simple.
This article has the complete list of camping essentials for family trips, packing, and even some additional items if you are traveling with a pet or baby.
There are also some tips and frequently asked questions about camping with your family that you can reference to plan a great camping trip.
Camping Essentials for Family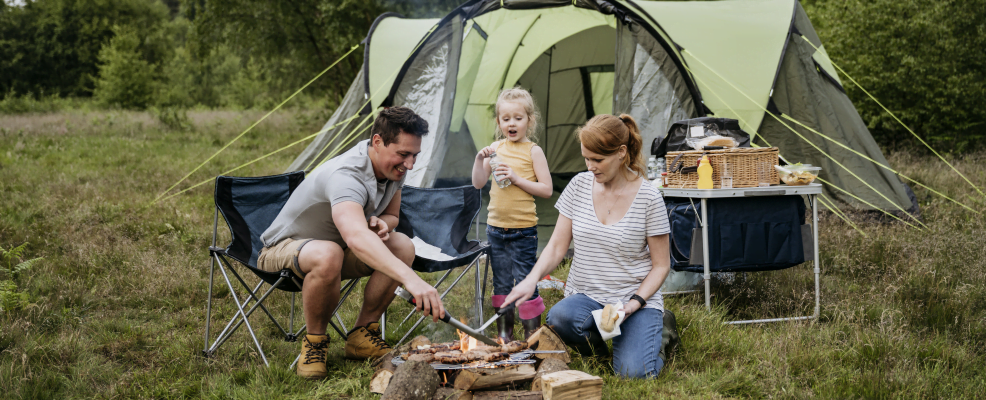 Packing for a family camping trip can seem overwhelming, especially if you have never done it before. But don't worry! Below is all the best camping gear for families. Use the lists below to make sure you have everything packed and ready to make your next family camping trip the best one yet.
Camping Gear for Families
First, let's look at all the camping essentials for family trips, which is all the gear you need for the actual camping. These apply to nearly all camping trips and include some hiking gear, too, so you can save and reference this list any time you go camping.
Tent with poles, stakes, and anything else needed to set it up
Sleeping bags
Sleeping pads
Pillows, blankets, and other bedding
Cots
Air mattresses
Chairs
Folding table
Tarp
Generator or electric cords
Hiking poles
Bear spray
Mosquito protection
Fire pit
Wood
Cooking Gear for Family Camping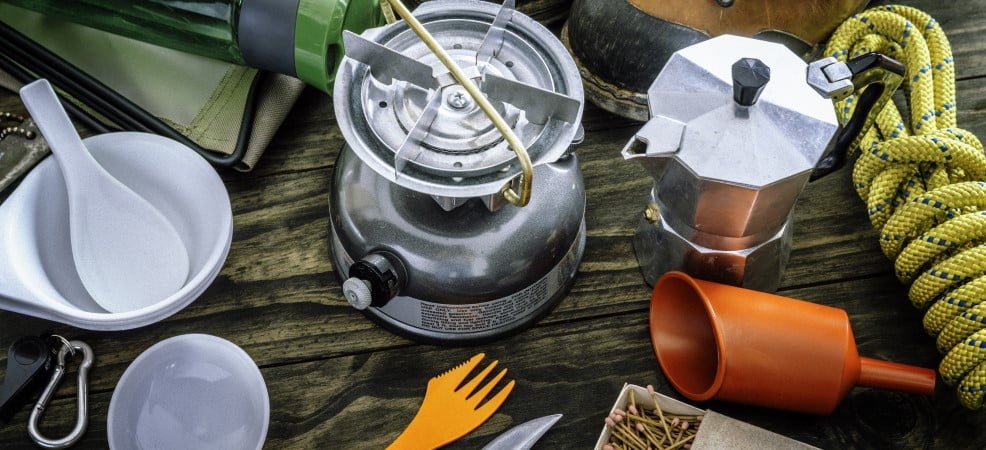 Cooking gear is also an important thing to pack for a family camping trip. You want to make sure you have plenty of food for everyone in your family and lots of snacks and water for the kids. Also, make sure you have a plan for cooking all the food you pack.
If you plan on packing meals that do not need to be cooked, you will not need many of these items. But, if you want to cook out over the campfire or grill food, you will need most of the items below. For tips on how to cook without fire, refer to our separate guide.
It is always a good idea to bring extra, non-perishable food than just what you think you need in case of an emergency or you lose food to animals, spoiling, or weather.
Here is the cooking gear you will need to pack for a family camping trip:
Food and condiments
Portable grill
Gas or charcoal for the grill
Coolers
Ice
A lighter
Drinkable water or filtration system
Garbage bags
Plates, bowls, and utensils
Napkins or paper towels
Sticks for roasting over a fire
Cooking utensils like pots, pans, and spoons
Cutting board
Can and bottle opener
Cooking oil
Aluminum foil
Containers for leftovers
Plastic bags
Dish soap and washing items
Clothing and Personal Hygiene for Family Camping
Clothing is also important for camping, especially since you will be out in the elements and the weather can change quickly. Make sure you check the weather forecast before you start packing, then keep an eye on it leading up to your family camping trip in case anything changes.
And, if you know your kids will be playing outside and in mud or rain, bring plenty of extra clothes for them so they have something clean to wear every day and in the tent.
If you are staying at a campground with amenities, check and see if you will have access to laundry machines. If so, bring some detergent in case you decide to do laundry. And, if not, pack a few extra outfits in case your clothes get too dirty.
Here are the clothing essentials you need for a family camping trip:
Shirts
Pants
Socks
Underwear
Jacket
Hat and sunglasses
Rain gear
Shoes and flip flops
Hats and gloves
Swimsuit
Pajamas
Base layers for cold weather
Laundry bag
Ear plugs
Eye mask
Toothbrush
Toothpaste
Hairbrush
Shampoo and conditioner
Face wash
Body wash
Deodorant
Towel
Sunscreen
Bug spray
Feminine hygiene products
Medications (including for children)
Glasses or contact lenses
Razor
Lotion
Aloe
Safety Gear for Families
Safety is the most important aspect of camping, especially when you have little kids around. It is crucial if you want to be the most prepared for your family camping trip, especially if you are going somewhere remote.
Here are the most important safety items you should bring on a family camping trip:
First aid kit (bandaids, antiseptic, cotton wrap, pain medication)
Ice packs
Bug spray
Sunscreen
Flashlights, lanterns, and batteries
Maps and other navigational items
Power bank
Multi-purpose tool with knife
Hand sanitizer
Wet wipes
Toilet paper
Tweezers
Matches and fire starter
Flotation devices
Emergency blanket
Extra layers of clothing
Portable radio
Food storage (to protect from animals)
Allergy medicine and relief
Cash
Other Helpful Items to Bring on a Family Camping Trip
While all the items above are the most important, there are some other things you might want to consider packing for your family camping trip. Depending on how old your kids are, what they like to do for fun, and what activities they have planned, you may want to pack some extra items or games to keep the kids entertained.
Here are some other helpful items to bring on a family camping trip:
Games
Playing cards
Speaker
Books
Puzzles
Nature guides
Binoculars
Hammock
Fishing and hiking gear
Picnic blanket
Yard/outdoor games
Camping with Babies and Toddlers
If you are camping with a baby or toddler, there is some extra baby-specific camping gear you need to bring. You also need to make sure you bring all the essentials.
Baby Camping Gear
Here is the gear you need to pack before you go camping with a baby:
Baby bed or crib and blanket
Playpen for outside
Baby carrier
Baby seat
Stroller
Clothing
Diapers and wipes
Bottles, formula, or food
High chair
Baby sunscreen and hat
Bug spray
First aid kit with baby-specific items and medication
Toys
Binkies
Camping with Pets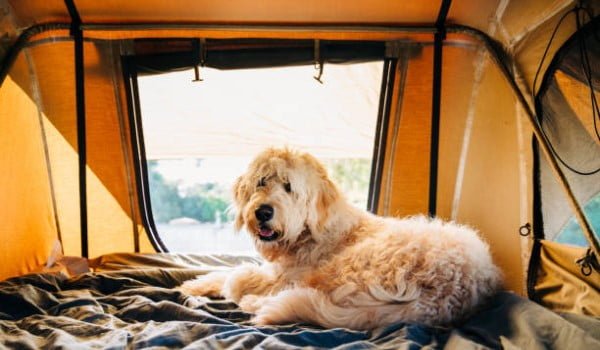 Pets are an important part of any family, and camping with them can make a trip that much more special. However, if you are camping with a dog or cat, you need to pack some extra gear for your family trip to make sure they are taken care of.
You should also make sure pets are allowed on the grounds or site you are camping at.
Camping with Dogs
Most dogs love spending time outside, so they will love to join you on your family camping trip, and it will save you money on a sitter or doggy daycare. But you need to pack some extra stuff for your dog. Here is the gear you need to pack if you are bringing your family dog camping:
Food and treats
Water and bowl
Leash and collar
Toys
Poop bags
Bed
Stake and cable to tie up at your campsite
Medication (especially for fleas and ticks)
Pet-friendly bug spray
Camping with Cats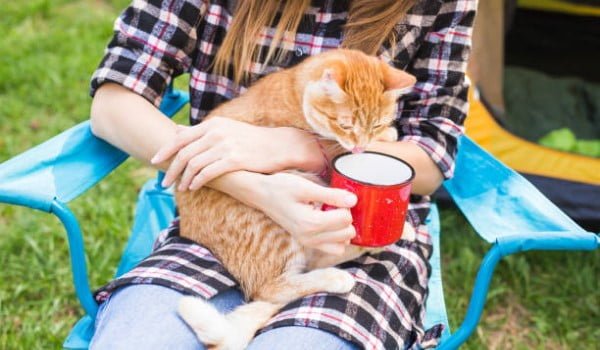 While it may seem crazy, more and more cat owners are taking their furry friends with them on hiking and camping trips. Here is the gear you need to pack if you are bringing your family cat camping:
Food and treats
Water and bowl
Leash and harness
Litter boxes or poop bags
Bed
Brush
Medication
Toys
Scratchpad
Pet carrier
Recap: Best Camping Gear for Families
Here's a quick recap of all the best camping gear for families listed above. Save or print this list so you can reference it every time you are going on a family camping trip.
Camping essentials (tents, sleeping bags, firestarter, etc.)
Cooking supplies (food, pots, utensils, plates)
Clothing and personal items (clothes, jackets, swimsuits, sunscreen)
Safety gear (first aid kit, flashlights, toilet paper, knife)
Another other gear or activities you or your family would enjoy
FAQs About Family Camping Gear
Final Thoughts
Camping with your family creates amazing memories that you, your kids, and the rest of your family will not forget. But you need to make sure you have all the camping essentials for family trips.
You need to pack camping gear, cooking supplies, safety items, clothes, and anything else you need. You will likely have extra items to pack too, if you are camping with a baby, toddler, or pet.
Make sure you save and share this guide to the best camping gear for families so you have it to reference before every camping trip.
Andrea is passionate about going on adventures and enjoys spending quality time with her loved ones, whether it's hiking through the mountains or camping by the lake.