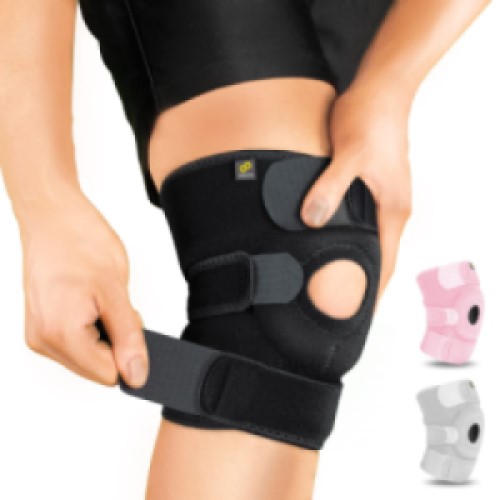 Supported knees are sometimes pain-free when hiking. The best knee braces for hiking are known to reduce and even eliminate pain around the knee.
Pain is common around the knee when hiking. An irritated patellar tendon typically doesn't hold the patella (kneecap) properly in place, which triggers pain while hiking.
Knee braces for hiking aim to stabilize the patella or reduce pressure on the patellar tendon. Such braces are known for having a correcting role for the patella and they help mitigate pain as well as help keep it away in the first place.
Some of the top knee braces for hiking can make a positive difference in knee pain. This type of pain can come from an injury, joint wear-off, or even from an injury. The extra stabilization brought by the knee brace can aid with both pain and injury recovery.
5 Best Knee Braces for Hiking
Preview
Best Budget
Best Value
Editor's Choice
Title
Mueller Jumper's Knee Strap
The following knee braces are made for hiking or adapted for hiking. They have adjustable sizing which means they fit most people.
1. Achiou Knee Strap
Achiou Knee Strap
【Pain Relief & Shock Absorption】Featuring soft silicone padding, this patella knee strap absorbs the shocks and reduces pain associated with patellar tendonitis, arthritis, runner's knee, meniscus tears, chondromalacia etc and helps prevent accidental damage
【Adjustable Strap & Universal Fit】The segmented design, can make flexible adjustment according personal knees' curves to supply comfortable patella protection. Also, double knot design supports tightening or loosening the knee band at any time. Fits any specific needs from a child to an adult for sizing of 8-18 inches in circumference
【Comfortable & Stay in Place】Smooth edges don't irritate skin and wrap tight around your knee for support, not even feeling it. You can function much better with this knee strap for knee pain on to give your knee enough break from the stress and stays in place for any physical activity
The first knee strap hikers should consider should be lightweight. Achiou's knee strap meets the lightweight criteria. Hiking over long distances often requires the lightest gear. A lighter knee strap puts less pressure on the knee compared to bulky heavier knee straps.
There are a few reasons why this knee brace is often considered the first choice in lightweight equipment. Those asking how to protect your knees while hiking need to know it's lightweight and highly adjustable.
Made from silicone, this knee brace is moldable and soft. Most importantly, it feels comfortable. It works by relieving pressure on the patella which reduces or eliminates knee pain while hiking.
Another major benefit of the knee strap is that it comes with two Velcro holds which allow maximum adjustability.
The amount of pressure put on the tendon by the knee strap dictates its effectiveness. A tight knee strap reduces more pressure from the patella which
The main silicone strap of the knee brace is covered in soft neoprene. This avoids facing painful problems such as skin pulling.
Acting as a compressive knee strap that reduces tendon pain, this knee strap can be worn both above and below the knee. Severed hiker's knee pain is often best dealt with by walking with bent knees. This is the main reason such a small knee strap is superior to a knee sleeve for hiking when suffering from acute knee pain.
2. TechWare Pro Knee Brace
TechWare Pro Knee Brace
ADJUSTABLE UNIQUE BiDIRECTIONAL SUPPORT Alternating Strong Closures Stabilize Patella to Reduce Knee Pain. Others Have Straps on One Side Which Provide Uneven Support. PLEASE MEASURE Circumference Around Knee and Thigh for PROPER FIT (see Sizing Chart Image). Choose from 5 Sizes - Medium, Large, Extra Large, XXLarge & XXXL. Mens, Ladies & Youth.
OPEN PATELLA DESIGN For Support and Compression Around the Kneecap and Tendon Areas to Heal Knee Injuries. Also 4 Flexible Spring Stabilizers Provide Better Knee Cap Protection and Stability.
BREATHABLE MOISTURE WICKING LIGHTWEIGHT NEOPRENE AND NO SLIP SILICONE STRIPS Ensures That Compression is Comfortable, Uniform and Stays in Place for Any Physical Activity.
TechWa'res Pro Knee Brace is the recommended full-support option for hikers. These types of knee braces are ideal for a series of knee and tendon issues such as tendonitis and bursitis. Some of these conditions are hereditary and hikers need to live with them while others can appear later on.
Full patella support is achieved by this knee brace with a cutout for the patella. This reduces direct pressure on the patella while working on the joints as a pain and pressure reliever.
Bi-directional straps ensure such a large knee brace remains in place. While recommended for hiking, it's also used by runners who suffer from conditions such as runner's knee given its stability and effectiveness.
Breathable neoprene covers the gel insertions of the knee brace. Hiking in the summer is easier as neoprene is slightly breathable and superior to other materials such as polyester.
Ideal for hiking and knee conditions such as arthritis, bursitis, and tendonitis, the knee brace benefits from bi-directional straps that can be as tight or as loose as needed. Found both above and below the knee, these straps allow the ultimate customization as needed for each hiker.
3. Wopoky Patella Knee Strap
Wopoky Patella Knee Strap
Shock-Absorbing & Knee Pain Relief - WOPOKY patellar tendon knee strap is with built-in premium soft silicone which can perfectly suit to your knee curve and shape, and can offers great support for patella and do make a difference during intense workouts.
Fullly Adjustable & One Size Fits for All - The double side adhesive closure system makes you can easily adjust the tightness when you wear the knee strap. It fits for sizing of 10-18 inches in circumference, and you can get the right knee compression according to your personal need.
Comfortable & Stay in Place - The soft neoprene material is breathable and wicking, so your will feel your knee warm and comfortable always. Also the double knot design allows you to allows you to adjust the tightness as you wish, no slipping even you do long time workouts.
Reduced pressure on the patella knee tendon is the main benefit of this compact knee strap. With an ergonomic design, this knee strap is also narrower in the middle so that it doesn't put pressure on the kneecap.
One size fits all further recommends this knee strap to both men and women into hiking. It has an adjustable circumference between 10 and 18 inches which means it can easily be worn both above and below the knee.
Double-side adhesive straps ensure this knee brace is easy to put on and take off. Its practicality further recommends it for walking or trekking. Suitable for all-day wear, this knee brace is also suitable for multiple short hikes during the day when you need to put it on and take it off multiple times per day.
Shock-absorbing silicone ensures it remains comfortable when hiking on hard soil such as rocky terrains or paths with plenty of ground-level tree roots. This is why it doesn't transmit any shocks to the knee tendon which makes it feel a bit more comfortable compared to other bulkier knee braces.
Silicone materials are also superior to old-school metal knee braces. These don't get as cold as metal knee braces being recommended for hiking in all seasons which includes wintertime hiking.
4. Hueglo Knee Strap
Hueglo Knee Strap
★ RELIEF FROM KNEE PAIN:If you are suffering from knee pain, doing any kind of exercise, or even a walk, seems like a big task. This patella knee strap provides a way to do exercise without worrying about the knee pain. The knee braces provides targeted compression from dual straps above, which releases the tension, and gives you immediate relief knee pain.
★ COMFORTABLE AND STRONGER SUPPORT:Carefully designed and made of unique latex material, our patella knee strap is soft and breathable, fits the skin perfectly during exercise, and provides more comfortable support for the knee. Our patellar tendon support strap is your ideal choice for support to reduce pain during movement to keep you doing what you love to do!
★ HIGH QUALITY & DURABLE - We has combined the newest technology with highest quality materials.This patella knee straps is made of high-quality neoprene & nylon which makes it light & soft, so you don't feel any weight on your knees.Ergonomicaly designed with silica pad,effectively fit patella configurations, reduce patellar wear and weak knee joints.
The 2-in-1 knee braces are a hybrid design that combines a strap above the knee with a strap below the knee to reduce pressure on the patella more efficiently. These types of solutions are recommended on technical terrain where hikers put pressure on the knee from various angles. Situations where it's ideal include hikes with plenty of climbs and descents.
Latex knee braces are rare. Hueglo offers these knee braces as the ultimate alternative to silicone and gel. Latex is softer and maybe better suited for those suffering from knee pain, arthritis, or hikers who simply need to counteract the effect of aging on the knees.
Improved breathability over knee sleeves makes these knee straps ideal for the longest all-day hikes. Neoprene and nylon lightweight materials are used to enhance breathability. Sweating is one of the few possible drawbacks of wearing knee braces but neoprene and nylon sweat away efficiently.
Suitability for long hikes based on latex recommends these hiking braces for the longest hikes first. They offer all-day comfort and stability with the reduced bulk of traditional knee sleeves which have considerable limitations when it comes to breathability.
Ideal for hill climb and descents, the knee braces are most suitable on the most demanding terrains. These conditions require a bent knee which is where the knee braces work best. The more hikers walk without bending the knees the more pressure is put on patellar tendons.
5. Mueller Jumper's Knee Strap
Sale
Hueglo Knee Strap
RELIEVES PAIN:Ideal for helping relieve patellar tendonitis caused by frequent running and jumping, sometimes known as runner's knee or jumper's knee
FIT: Measure around your knee, fits 12" - 20" Can be worn on the right or left
INTENDED USE: Recommended for patellar tendinitis and to help relieve pain associated with chondromalacia (irritated kneecap), and Osgood-Schlatter Disease
Mueller makes Chondromalacia knee braces or runner knee braces ideal for active people. Runners can count on these simple braces to offer a minimalist design and reduced pain on the patellar. The knee braces are made with a classic and proven design, also seen on many competitor brands.
A simple one-strap design makes for efficient practical designs. These are the smallest knee braces for hiking ideal for fitting in the backpack together with all other hiking gear. While not as wide as other knee braces, these still do their job as they reduce pain on the patella efficiently.
One-size for all design makes them swappable between family members. These knee braces can be used both by adults and by teenagers. But its seniors these work best for as they often suffer from an irritated knee cap.
The knee braces are also used by those suffering from Osgood-Schlatter's Disease. This is known as irritation on the shin bone, specifically of the top of the shin bone. This condition can be triggered by long-term hiking as well as by aging.
With good breathability based on a minimalistic design, the knee braces are recommended for some of the most demanding hikes where sweating is expected. Excessive sweating isn't bad for the knee, but it can make the knee brace slip off multiple times. This is why smaller knee braces that don't cover as much skin are superior in preventing excessive sweating.
Frequently Asked Questions
1. How do I strengthen my knees for hiking?
Bodyweight exercises are basic solutions for strengthening knees. Exercises with weights are even better at developing strength in the knees.
Squats are some of the most efficient exercises to strengthen the knees for hikers. Squats exercise both the knee and the muscles such as thighs and calves. This means squats strengthen the knee and also improve leg muscle strength.
Lunges can be just as efficient as squats for strengthening the knees, especially with weights as hikers often carry backpacks with food and water. Lunges also improve balance on one foot, essential when it comes to correcting the biomechanics that prevents stepping incorrectly which in turn leads to knee pain.
To learn more about the exercises that help relieve knee pain, check out this article.
2. Can you hike with knee pain?
Hiking with knee pain may not be recommended. However, using knee braces often makes hiking possible. Avid hikers and even seniors might not have any other option than dealing with the pain to continue an active lifestyle. Knee braces come with reduced knee pain and enhanced walking capacity, even if only for short hikes.
3. Should I wear a knee brace while hiking?
Knee braces are recommended for almost all hikers. Those who suffer from swelling around the knee from constant walking or those who might retain water around the knee need to readjust knee braces while walking. Most people can hike for a full day without readjusting the knee brace if properly put on, however.
4. What is the best knee brace for hiking with arthritis?
Osteoarthritis and rheumatoid arthritis are common conditions in adults suffering from knee arthritis. These types of arthritic problems are generally progressive as the knee joint rarely recovers in favor of wearing away. Using knee braces can slow the speed of this natural process.
5. What size knee braces do I need?
Not all knee braces fit all people. These either come in one size or specific sizes. One-size knee braces are recommended for almost all hikers as they have sufficient adjustability for narrow, regular, and wide knees. Size-specific knee braces are only made for a limited knee circumference as follows.
10-22" one-size – these are the knee braces with the highest adjustability levels. They're also known as one-size knee braces as they have the largest knee circumference or feet circumference of all knee braces.
10-16" S – M – knee braces that adjust up to 16" in circumference are either consider small or medium in size. They are recommended to those with thin legs.
16-22" L – XL – knee braces adjusting from 16 to 22" in circumference are made for hikers with muscular feet. These are considered large or extra-large.
Do hiking knee braces help with arthritis?
Hiking knee braces are generally useful for pain caused by arthritis. They provide extra support or they reduce the weight on the knee which reduces pain and irritation. These knee braces also help with stiffness essentially increasing confidence that a hike can be pain-free.
Conclusion
Some of the best knee braces for hiking are made with soft materials with a tight application above or under the knee. These knee braces reduce the load on the knee dealing with common symptoms of hiking pain and knee pain associated with aging and its impact on the knee joint.
Knee braces have also been shown to boost confidence and improve strength in the knee. They can be used on one knee or both knees.
Not all knee braces are the same. Those that allow a larger range of motion for the kneecap are recommended for hikes with plenty of climbing or descent trails. These trails are the most demanding on the knee.
Other knee braces that keep the patella under a strict range of motion are particularly recommended for hiking on flat terrain. This type of terrain has a reduced impact on the patella as it doesn't impact the knee from different angles. Flexible materials such as gel, latex, and silicone are the best for micro-adjustable support of the 2 patellar tendons that attach to the knee.
Andrea is passionate about going on adventures and enjoys spending quality time with her loved ones, whether it's hiking through the mountains or camping by the lake.